Michelin launched their first tire designed to meet the specific demands of electric sports cars. Starting April 1, the new Pilot Sport EV with imported Formula E technology will be available with a number of specific features.
The new Michelin Pilot Sport EV benefits directly from the progress the French brand has made over six seasons in Formula E.
This new rubber incorporates ElectricGrip Compound technology that features a hard compound for the center of the tread, which provides the grip needed to withstand the high torque characteristics of electric sports cars.
The sidewalls use the same pattern, plus velvety finish markings just like those used in Formula E.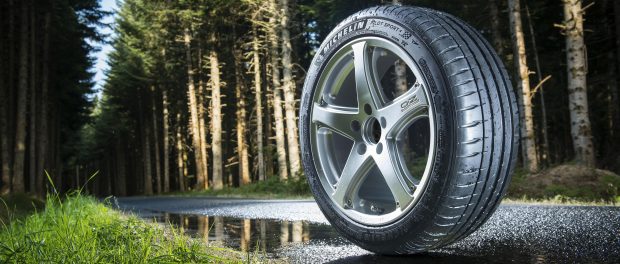 In the chinese market
The Michelin Pilot Sport EV is now available in China and will be on vehicles made in Europe and North America from the third quarter of 2021.
By 2024, Michelin plans to increase their sales in the electric car market, which has a high growth that they estimate will be eight-fold.
Read also: Alejandro Agag: Formula 1 and Formula E will eventually converge
The French manufacturer is currently the only one active in the market for electric sports car tires in both original and replacement equipment.
The Michelin Pilot Sport EV that will arrive in a few months will be manufactured in 16 sizes (original equipment: 11 sizes / aftermarket: 5 sizes) being available for wheels from 18 to 22 inches.
Carbon neutral
In order to achieve carbon neutrality throughout the tire and to address the demands of electric sports car owners, Michelin is committed to neutralizing the CO2 emissions associated with producing and transporting the tire to the point of sale.
This process includes the financing of projects aimed at offsetting and absorbing residual CO2 emissions associated with tire production, through the Livelihoods carbon fund until the day when it is possible to eliminate them completely.
Main features
Optimal grip on dry and wet roads, regardless of the level of tire wear. All this taking into account the higher weight characteristics and weight distribution associated with electric sports cars.
Excellent wear resistance in response to the high torque and acceleration forces of electric sports cars.
The low rolling resistance of the Michelin Pilot Sport EV extends the range up to 60 km.
20% reduction in perceptible road noise thanks to Michelin AcousticTM technology. This technology uses a custom-developed polyurethane foam, which manages to reduce noise in the passenger compartment.
Written by I Jhonattan González