Pirelli is an important part of the world of motorsports after serving as the official tire supplier for several categories. Formula 1 is one of them, and recently, the Fédération Internationale de l'Automobile (FIA) awarded the Italian company with the 3 Star Environmental Certification.
This recognition endorses the commitment and acknowledges actions towards sustainability, which has been awarded to several motorsport teams and racing organizations throughout its history, but on this occasion, it is the first to be granted to a tire manufacturer.
Giovanni Tronchetti Provera, Senior Vice President of Prestige, Motorsport, Sustainability and Future Mobility at Pirelli, was pleased with the recognition from the world's top motorsport entity directed towards the Italian brand. "It is a great honor for us to achieve the FIA's three-star recognition, as the focus on environmental sustainability is central to Pirelli's development strategy and fully integrated into our business model…"
Related Content: Formula 1: French Grand Prix Receives FIA 3-Star Environmental Certification
According to data provided through Pirelli's official statement, the tire supplier was confirmed by the Dow Jones World and Europe Sustainability Index, and the United Nations Global Compact LEAD, as the only company from the automotive and aftermarket sector worldwide.
On the other hand, Jean Todt, President of the FIA, offered his opinion on the matter: "The certification program is an important standard for measuring sustainability in motorsport. Congratulations to the Pirelli motorsport team for achieving the required level to reach the three-star rating, which underlines their commitment to our crucial common goals for the environment."
About the FIA Environmental Accreditation Program
The FIA Environmental Accreditation Program serves as a benchmark and guiding principle for motorsports and the mobility sector to improve environmental performance through a sustainable management system, which is awarded on a three-tier framework that defines the commitment of creditors.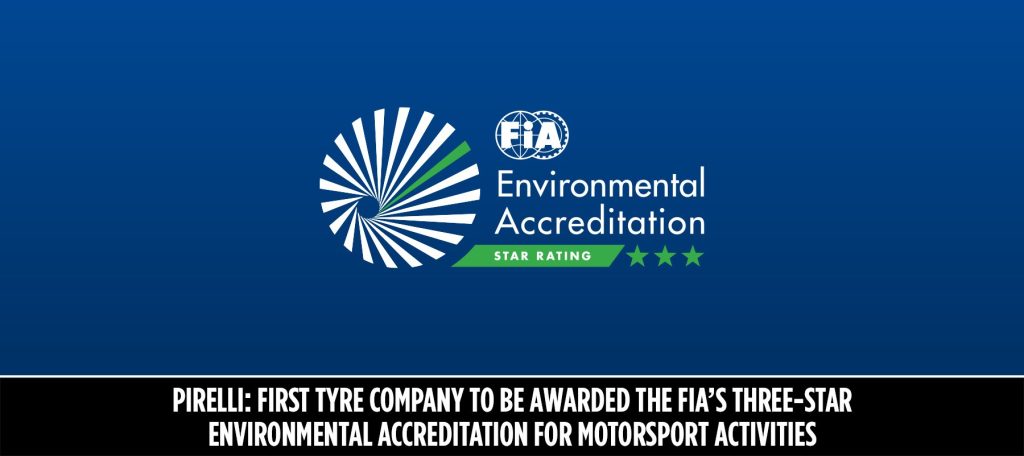 One star demonstrates a basic commitment to the environment with the intention of further improvement. Two stars raise the parameters of the first star to an international level, while three stars endorse best practice, delivery and continuous evolution with the implementation of environmental management methods.
Written by | Ronald Ortega