The German company Rolls-Royce Holdings announced a detailed plan through its Rolls-Royce Power Systems brand revealing how they plan to achieve a sustainability path starting now, with a deadline to zero emissions by 2050, an ambitious and necessary project.
The company's presence in mobility is so big that it supplies 160 armed forces, 4,000 airlines and 5,000 customers who benefit from its commercial activity, resulting in a great responsibility to reduce CO2 emissions through a detailed, specific and direct plan called Net Zero.
The primary goal of this program is to eliminate CO2 emissions by 2050, starting in 2023 by producing engines powered by electronic biofuels for the 2000 and 4000 series, both of which account for 85% of the brand's revenues through energy supply.
Net Zero in Detail
In 2025, Rolls-Royce Power Systems will enter into green fuels (fuel cell and biofuels) for power generation to its data center, hospitals or the public grid. The German company is currently experimenting with hydrogen and methanol, as well as hybrid systems for trains and ships.
Five years later (2030), technologies arriving to Power Systems program will be consistent with Net Zero targets to reduce carbon emissions by up to 35% compared to 2019 figures (109 million tons of CO2), which means that 38.15 million emissions will be removed from the planet by that time.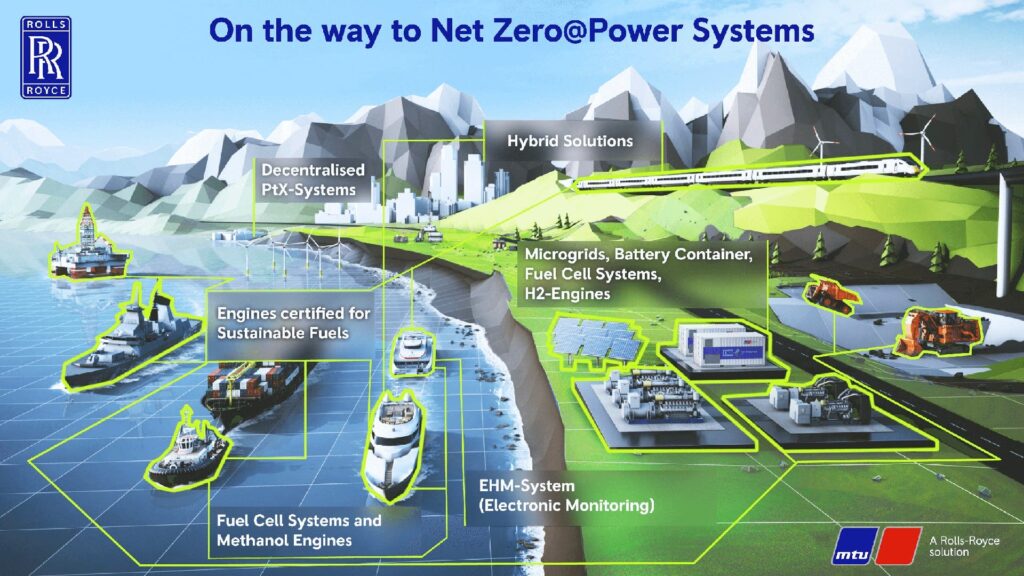 From 2030, polluting working methods by Rolls-Royce Power Systems will cease to exist, but the process to eliminate current production will take several more years to reach the final target in 2050, based on the results obtained from research funded in 2020 for £1.25 billion.
Rolls-Royce Holdings manufactures engines for all types of small and large-scale transportation: cars, planes, ships and trains. Its power in the transport sector is so strong that it is necessary to look towards a sustainable future, which will begin with the Rolls-Royce Power Systems plan.
Redacción | Ronald Ortega