It will surely be one of the most particular vehicles to be seen aesthetically, but it is highly reliable at a mechanical level due to all its features. The new Xbus, quad class L7e vehicle will arrive to Germany next year.
It is an all-electric, battery-powered, fully modular option, capable of providing a quite acceptable range (200 kilometers) considering the standard version will only have a 10 kilowatt-hour battery. In addition, it will introduce an add-on that will provide up to 30 kWh, which increases the autonomy from 100 kilometers to 600 kilometers on a single charge.
As for the engine, the Xbus uses four power units located on each wheel generating up to 56 kW (76 hp) along with 15 kW (20 hp) nominal speed, achieving 100 kilometers per hour as top speed and carrying between 450 kilograms or 600 kilograms when transporting cargo.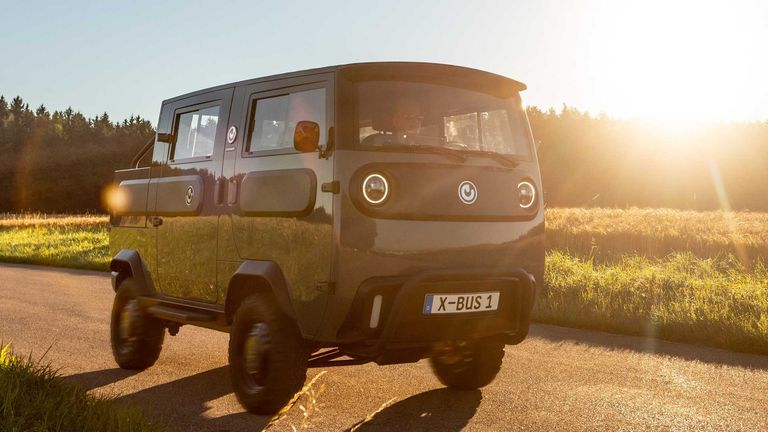 Related Content: How a hydrogen-powered Toyota Corolla Sounds
Electric Brads: Xbus' Manufacturer
The vehicle has been a sensation since it was announced as a prototype with no name yet revealed in 2020. However, Xbus is backed by ingenious minds working at Electric Brands' plant in Itzehoe, Germany. The company aims to locate 600 dealerships in Europe as an early phase and then expand to 1,000 locations.
One of the Xbus' most attractive features is to be a completely modular vehicle, i.e., it can be transformed and adapted to the shape of two different models. First, it can be a small van, and then become a pick-up, dump truck or any other form.
As mentioned above, Xbus will be available in Germany from 2022, and therefore, Electric Brands will offer it to people interested in acquiring the modular vehicle, a customizable to take full advantage of its features. Moreover, its starting price is estimated to be around 17,700 euros.
Written by | Ronald Ortega