After a double date in NEOM, Saudi Arabia, held last March 11 and 12, Extreme E is preparing for the second race to be held in Scotland, where one of the elements that will draw attention will be the tires, as they will be tested on a completely new surface for the Hydro X Prix.
Continental, the brand in charge of manufacturing the official tires of the series, has developed the compound to be used in the current campaign of the 100% electric category of electric off-road vehicles, placing considerable emphasis on the use of more sustainable materials, as part of the purpose of the series.
Thus, the company brought to life the CrossContact Extreme E used in NEOM, next to be used in Scotland and for the remainder of the third season. "We have focused even more on the use of sustainable and recyclable materials with this tire, so we are very well prepared for the challenges of the 2023 season," said Nels von Schnakenburg, Continental's Extreme E Technical Director.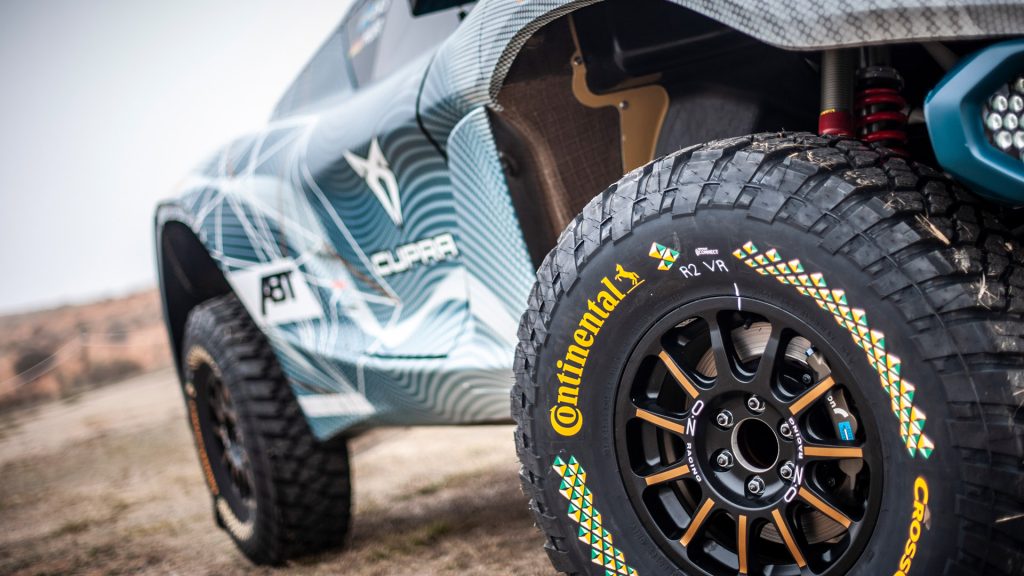 Related content:Mattias Ekström Reveals What Surprises Him About Extreme E as He Returns to the Series
Features
After studying how to manufacture the tire, taking as reference two seasons loaded with information, route and various surfaces, Continental has decided to increase the percentage of recycled and renewable materials to 43%, where silica obtained from the ash of rice husks, a product of waste from agriculture, stands out.
Processed steel, black carbon and polyester yarn from recycled PET plastic bottles were also used in the tire construction process, incorporating the ContiRe.Tex technology developed by Continental, which produces polyester yarn without using any intermediate chemical step from PET bottles.
It should also be noted that these bottles come from regions that do not have a closed recycling cycle. All of this makes it more sustainable and lighter, given that the company managed to shave two kilograms off the total weight of the tire, saving carbon dioxide emissions during the transportation process.
"We have made further progress with handling performance and therefore improved drivability. The tire's performance and robustness means that it will be able to withstand the full range of challenges that Extreme E can throw at it," von Schnakenburg continued.
Ultimately, this whole process results in a high quality product under sustainable standards, ready to offer maximum grip during the races where Continental delivers 30 sets of tires to each team in the series.
Written by | Ronald Ortega