With just over a month to go until the E-Prix Formula E in Jakarta, Indonesia, scheduled for June 4, the organizers announced that there is great progress in the construction of the sports complex.
At the groundbreaking, the engineers in charge acknowledged the difficult work to remove the marshy ground that kicked off the work on the street circuit.
The promoters reported that the asphalting of the track located in the Ancol area, in the north of the Indonesian capital, has been completed. The technical team is now working to build support facilities, including spectator stands, paddock or race team garage and bridges.
Read also: Vandoorne Conquers Monaco and Leads Drivers Championship
Speaking to local media "Bisnis", the E-Prix organizing committee's Vice President for Communications, Iman Sjafei, said, "The asphalt is ready. We are building and arranging the grandstands, the paddock and other facilities".
However, Sjafei did not specify when the work on the support facilities will be completed, and admitted that he had to coordinate again with the technical team in the field to discuss the matter.
"The initial plan was to have it ready a month before the event, the circuit was ready to be fixed. Formula E Operation (FEO) has been here for a few months now supervising the works and monitoring step by step" he added.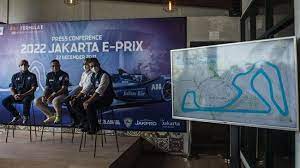 Features and Capacity
The Jakarta International Electronic Award Circuit (JIEC) is 2.4 kilometers (km) long and 12 meters wide. The plan is for the circuit to have 18 turns with a draft horse-like design overlooking the Jakarta International Stadium (JIS).
Event organizers stated that the planned capacity to accommodate 50,000 spectators will have to be reduced to 10,000. However, they did not rule out that as work progresses this figure may increase.
What is certain is that the event organizers are working against the clock to prevent the event from being suspended and disrupting the Formula E calendar, as happened with the E-Prix in Vancouver, Canada.
Written by I Jhonattan González