China continues to lead the electromobility market worldwide. The Asian country leads the production, consumption and export of electric vehicles, as well as topping the charging infrastructure ranking.
According to data provided by the International Energy Agency, China is the main driver of the global growth of the electrified car market. Only in 2021, some 3.4 million of the 6.6 million sold worldwide were sold.
These figures further catapult the technology coming from Asia with the presentation of innovations that increasingly surprise the world. On this occasion, the company Baidu unveiled its new fully autonomous sixth-generation prototype.
It is the Apollo RT6, equipped with 38 sensors all around its body. 8 LiDAR, 6 millimeter wave radars, 12 ultrasonic radars and 12 cameras. This is combined with a computing system of 1,200 TOPS (Tera Operations Per Second) of power to achieve level 4 autonomy.
Design
The Apollo RT6 has a distinctive design in the form of a minivan with some SUV-like features. The doors leading to the front seats have a "normal" opening, while those leading to the rear seats open horizontally. This is intended to promote easy access, as they are the most comfortable and ergonomic of the entire passenger compartment.
The rear seats are fully adjustable, with up to four fully adjustable seats. In the first row, the dashboard has been adapted as a table or desk where you can work or perform other activities. The steering wheel can be hidden under the structure to make better use of space.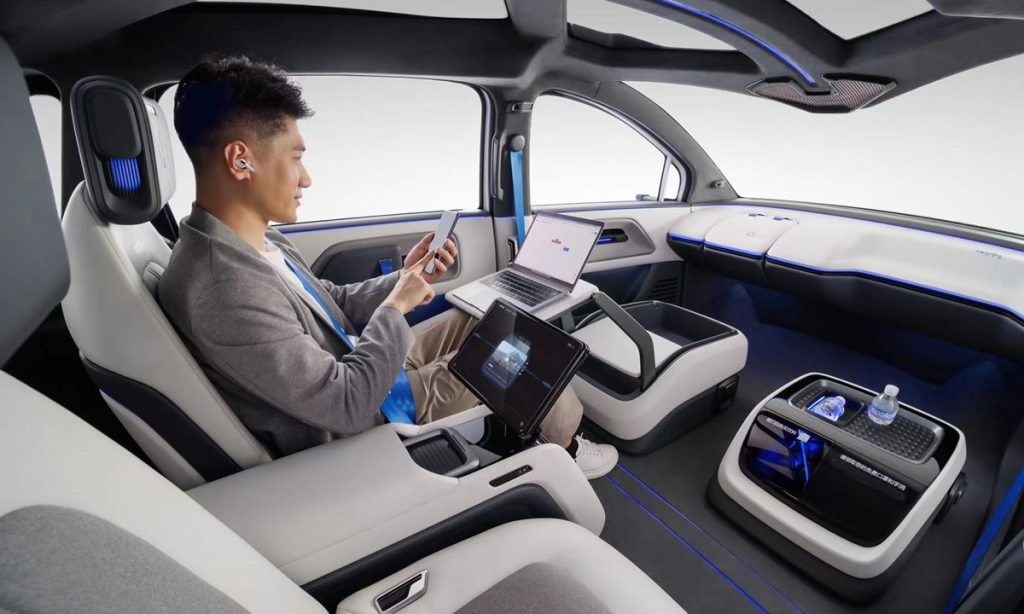 In the rear seats is where more emphasis will be placed on aspects relating to the convenience and comfort, as the first row can be converted into tables to support the computer or tablet and work while the vehicle makes the journey by itself. The passenger compartment floor is completely flat, so that users can better combine the distribution of its elements.
Technological Program
The presentation of this vehicle is supported by Apollo Go, a Baidu program that offers transportation on fully autonomous vehicles thanks to the inclusion of patented technology.
The latest production has managed to reach an approximate cost of $37,000 per vehicle manufactured, this, together with the technology that equips it, makes it one of the most affordable alternatives in the current market.
These prices will make it possible to implement large fleets of autonomous vehicles in China, although for the time being there are no plans to export them to other countries in the world.
Baidu operations
The Chinese company has initially been characterized as a major internet search engine; however, in recent years they have been focused on automotive technology, including electric vehicles and the development of autonomous driving.
Since its launch in 2020, Baidu has managed to expand its robotaxi service to 10 Chinese cities and has harvested more than one million rides. In the coming years, they expect to expand to a total of 65 cities by 2025 and 100 urban environments by 2030.