Research and multimillion-dollar investments to accelerate charging times and improve the supply infrastructure for electric vehicles have become the main objective of automakers worldwide.
Swedish giant Volvo, one of the current leaders in electromobility, decided to partner with Israeli startup StoreDot to drive the development of battery technology, which aims to recover up to 160 kilometers (km) of range in just five minutes.
The collaboration between Volvo and StoreDot will take place through the Swedish brand's partnership with battery manufacturer Northvolt. Announced in 2021, the partnership includes the creation of a development and production center to be located in Gothenburg.
Read also: Great Expectations in Formula E: The Gen3 Car will be Unveiled at the Monaco Preview
This union is one of the vertices of Volvo's roadmap, which is also working on an interesting wireless charging project. Tests are already underway in an urban environment and over the next three years a fleet of vehicles from Cabonline, the largest Nordic cab company, will be tested with a fleet of 100% electric Volvo XC40 Recharge vehicles.
This wireless charging test is one of many projects that make up the strategic initiative launched by the Swedish city of Gothenburg, where Volvo's European headquarters are located.
As for StoreDot, they hope that the investment made by Volvo will enable them to accelerate their plans, with the intention of starting mass production and marketing their batteries in 2024.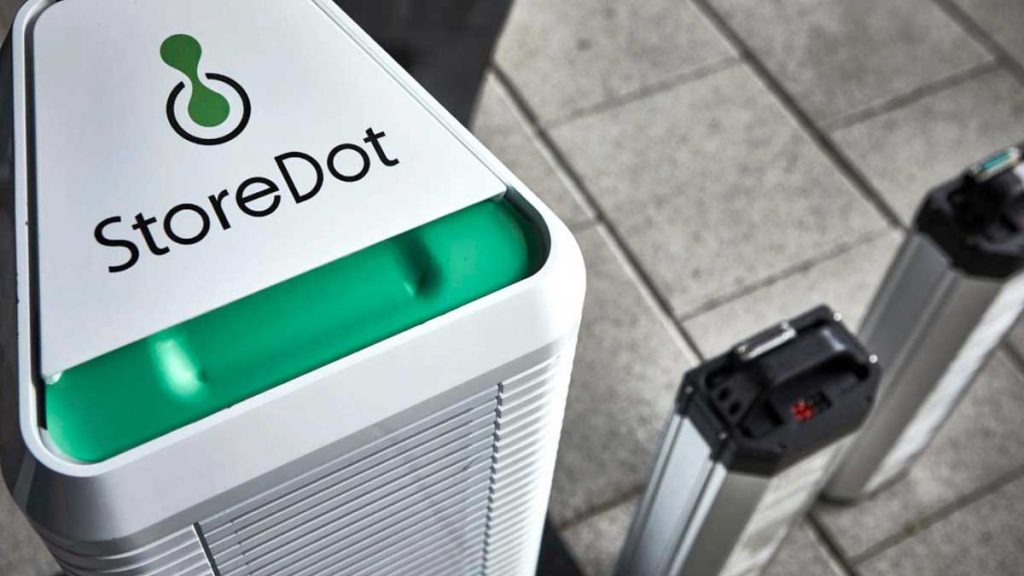 The Technological Process
The technology applied by StoreDot, for the development and acceleration of the charging process, is based on the already known solid-state batteries which, due to their higher efficiency and more stable chemistry, are considered the future option for the electrified automotive industry.
Based on this concept, the Israeli company proposes to replace the lithium foil that acts as an anode with a layer of organic material based on silicon and endowed with active nanoparticles. These nanoparticles accelerate the passage of ions, resulting in faster and more stable battery charging.
In parallel, StoreDot is already developing semi-solid state battery technology (100in3), which would provide the same 100 miles of range, but with only 3 minutes of charging, with a 40% efficiency improvement. The company says they will be ready for mass production in 2028.
Written by I Jhonattan González