During the latter half of 2021, Airspeeder, the flying electric car series, has introduced major advances regarding the ambition to realize the dream of starting to compete on a totally innovative way.
After announcing successful flight tests that met all safety standards, Alauda Aeronautics, the company responsible for building the vehicles, announced that it will establish the world's first flying race car factory for the category.
The news follows a historic first endurance expedition between the two Alauda Mk3 eVTOL machines racing through the deserts of South Australia, where both Alauda Mk3 in-house teams reached speeds far beyond 100 kilometers per hour.
Government Funding
Located within the recently announced Australian Space Park at Adelaide, the new factory producing these innovative machines is co-funded by the South Australian Government, which will contribute A$20 million to the infrastructure development.
Read also: Four Teams for a Spot: Extreme E Third Place at Stake
Matthew Pearson, CEO of Airspeeder and Alauda Aeronautics, said the construction of the complex will rapidly accelerate a mobility revolution and put Adelaide on the map as a world-class innovation hub.
"As the first Grand Prix races of electric flying cars approach, we are proud to establish the world's first facility specifically designed for the production of these pioneering racing vehicles," he added.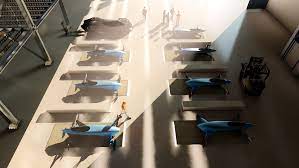 Alauda Aeronautics' technical leadership team is drawn from the brightest minds in the automotive and aeronautics industries, including historic brands such as Ferrari, McLaren, Jaguar Land Rover, Rolls Royce, Boeing and Airbus. It is the first in the world to be in production with high-performance electric flying cars.
The EXA remotely piloted GP season will be held in three soon-to-be-revealed international locations, and the next manned series is planned to race around the world in 2022.
Written by I Jhonattan González