Thorough preparation and teamwork are paying off for Porsche at this early stage of Formula E 2023. António Félix da Costa won the first World Championship race in Cape Town to claim his first win representing the German squad.
On a new track where Nissan's Sacha Fenestraz took Pole Position Julius Baer with the fastest lap in Formula E history at an average speed of 154.987 km/h, da Costa's fearlessness in front of the wheel gave him a well-deserved victory.
 The Porsche driver started 11th, but worked his way through the top 10 and into the top three by lap 20. With the pack tightened by a Full Course Yellow on lap 21, the top four were split by just 1.5 seconds.
Envision Racing's Nick Cassidy had overtaken Fenestraz and Maximilian Günther (Maserati MSG Racing) during the first round of ATTACK MODE activations, spending more time before opting for his initial 50kW boost and taking the lead.
Related content:Hofer Powetrain Launches Technology to Recharge Batteries to 80% in Less than 90 Seconds
Key Overtaking
 da Costa's move to take over the lead was one of the best previously seen in the tournament. During lap 24, his spectacular overtaking pass to steal the lead from Cassidy in the trickiest part of the track, a tricky combination of turns 7, 8 and 9 that had been the site of three crashes earlier in the weekend, the Season 6 Champion went around the outside of turn 7 and held his position on the inside of turn 8.
The Portuguese made enough of a gap to take his second mandatory ATTACK MODE and retake the lead position, but missed the activation cycle, handing the top spot to Hyderabad winner Vergne a lap later. The Frenchman had never had back-to-back wins until this point.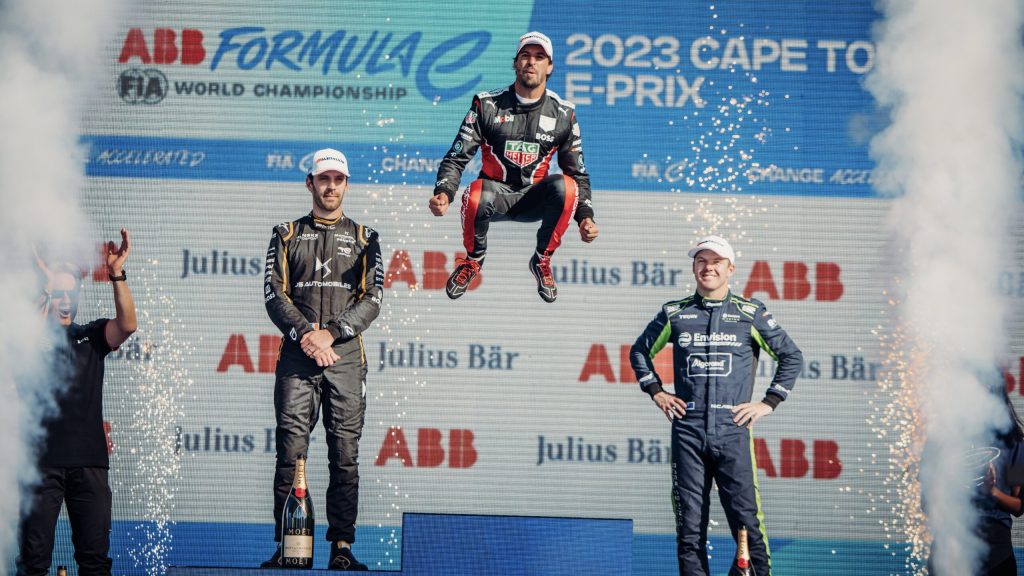 Then, the former teammates fought to the flag (Vergne had taken only one of his 11 wins to date by more than two seconds) and just emerged from a classic defensive drive to win in Hyderabad. The gap was half a second with the full 30 laps and only two added for time lost to neutralizations.
On lap 21, da Costa again attempted the same amazing overtaking maneuver, this time on Vergne, one of the toughest competitors on the track. As before, there was no room to breathe, but the Porsche racer once again went around the outside of Turn 7 into Turns 8 and 9 and took a memorable victory under heavy pressure from JEV.
 Qualifying leader Pascal Wehrlein, da Costa's teammate crashed cleanly into the rear of Buemi's Envision Racing car on Lap 1, resulting in retirement in the Round 5 race of the 16-race ABB FIA Formula E FIA World Championship season.