The eSkootr Championship (eSC) announced a key global micromobility partnership with natural fiber composite specialist Bcomp for chassis design.
Bcomp, which also works on the Extreme E electric cars, has pioneered the development of sustainable, high-performance materials for elite motorsport.
Instead of carbon fiber, Bcomp supplies its patented ampliTex technical fabrics derived from linen reinforced with powerRibs for the next championship.
Related content: eSKootr Championship builds strong global sustainability partnership with Umicore
As detailed by the eSC in an official statement, Bcomp's innovative materials combine lightness with high resistance and can reduce the impact of CO2 by up to 85% compared to carbon fiber.
The alliance comes just days after the eSkootr Championship also reported on a partnership with global sustainability company Umicore, meaning that the series is working hard to get everything in tune for its debut.
Engagement details
Hrag Sarkissian, CEO and Co-Founder of the eSkootr Championship said he was "immensely proud to pioneer the use of natural fibers in micromobility design with our new technical partner, Bcomp."
"We share the same commitment to innovation and high levels of technical performance, and the ambition to see the environmental benefits of more sustainable materials cross over from racing to the real world of urban mobility," he said.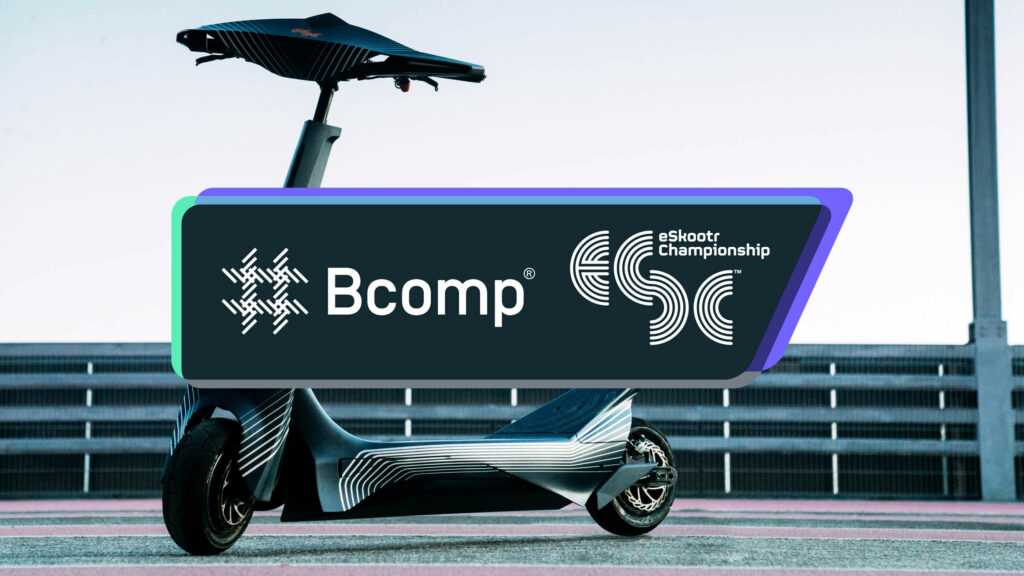 Christian Fischer, CEO and Co-Founder of Bcomp Ltd, said: "The Bcomp team is excited to be part of the inaugural season of eSC racing. We are looking forward to help the eSC team create exciting and sustainable entertainment and also demonstrate on the track what is possible in the streets. Electric micromobility is key to addressing climate change and Bcomp is proud to be part of the development of this sector," he added.
Bcomp is a Swiss cleantech company that has established itself as a world leader in lightweight, high-performance renewable reinforcements.
Read also: eSkootr Championship confirms high-performance battery agreement with Williams Advanced Engineering
Thanks to its world-class engineering team, Bcomp has the ability to guide customers through the entire process, from prototype to final part.
Due to Bcomp's patented lightening technologies with ampliTex technical fabrics and powerRibs reinforcement grid, it manages to be more sustainable and does not have to compromise on performance.
Written by I Jhonattan González