DS PENSKE unveiled the new look of the DS E-TENSE FE23 for the tenth season of the ABB FIA Formula E World Championship.
The DS E-TENSE FE23 now sports a dazzling gold look on the front end, side pontoons and halo.
Equipped with the same powertrain as in season nine, this new-look single-seater remains true to the French marque's traditional color scheme and the team's spirit.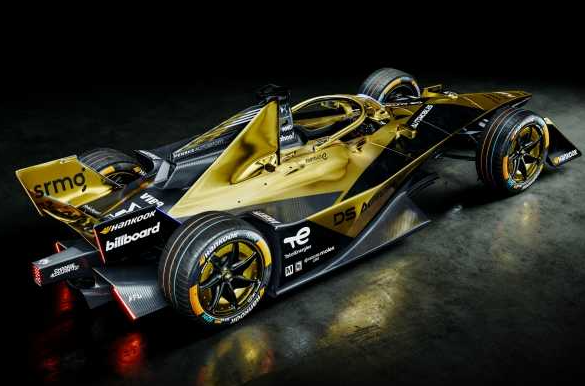 Total Innovation
The DS E-TENSE FE23 was developed by DS Performance, focusing on DS Automobiles' most advanced electric technology.
Jean-Eric Vergne, the only two-time Formula E Champion, and Stoffel Vandoorne, World Champion in 2022, will be at the wheel of the two DS E-TENSE FE23s during the official pre-season tests to be held in Valencia from October 24 to 27.
Read also: Nissan Unveils Concept 20-23 as Part of Formula E Program
"As always, the presentation of the new look is a very exciting moment because it represents the official start of a new adventure, a new challenge and a new season," said Eugenio Franzetti, Head of DS Performance.
"We start Season 10 with a new DS E-TENSE FE23 that is even more beautiful than last year's car. It's prettier and more visible, because that's what motorsport is all about," he added.
Marketing Boost
Franzetti explained that the goal is to give visibility to the DS Automobiles brand, its partner PENSKE AUTOSPORT and all its sponsors.
"We are also working hard to ensure that, in addition to being a beautiful car, the DS E-TENSE FE23 is also fast. The powertrain will be the same as in Season 9, as there are no homologation changes this year, but a lot of work has been done, and we will continue to improve the software that manages it," he explained.
"We want to be great and get a lot of good results, that's our dream! That's our goal for Season 10," concluded the DS PENSKE executive.