eSkootr Championship has generated multiple reactions since it was announced its entry into the sustainable motorsports world, as the intention to make a difference, coupled with the fact of using an 'atypical' vehicle for racing, quickly attracted attention. However, to date, the names of the main protagonists were unknown.
Several months went by that included important revelations. High-caliber hires, format, technical specifications of the scooters and locations where they will be raced, were part of the news that eSC unveiled little by little while the curiosity to know the names of the riders who will be aboard the S1-X for the inaugural season remained expectant.
Male and female riders will integrate a sport that will expose a new way of looking at electric scooters, while raising the flag for gender equality and conditions in motorsports. Elise Christie, Tre Whyte and Billy Morgan appear on the list of 30 confirmed riders to compete in eSkootr Championship alongside 27 other challengers.
Related Content: eSkootr Championship: Cities Confirmed So Far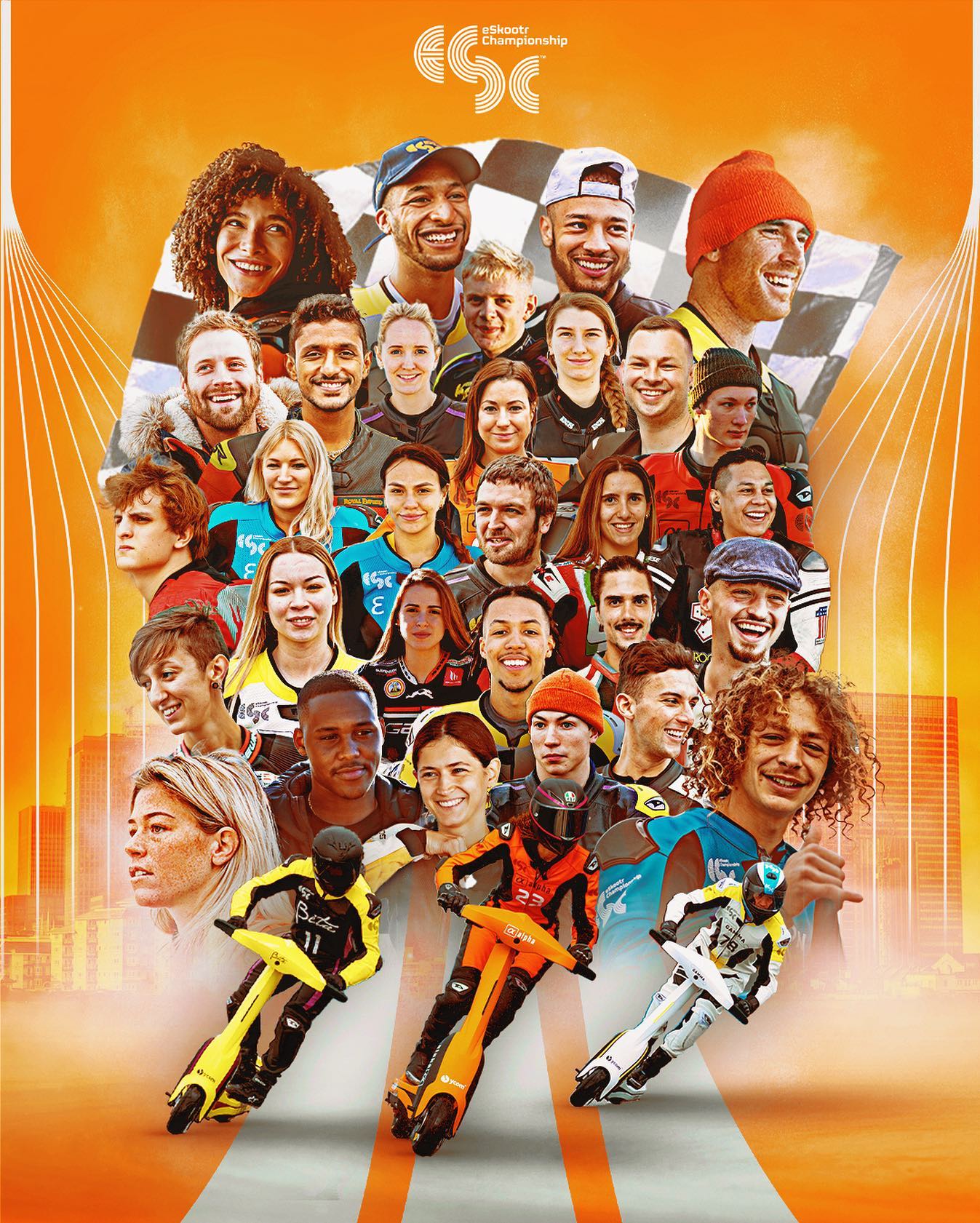 Christie serves as a multiple World Champion and former speed skater; Whyte does the same as a BMX World Championship bronze medalist and Morgan as an Olympic Snowboard bronze medalist. Several sports and experiences will blend together to come up with the first eSC champion.
"Today we can announce the 30 riders from around the world who will compete in the inaugural championship. They come from a variety of sports. Our final group of riders have gone through intensive testing and training to beat more than 500 elite athletes in order to be selected for the first season," said Hrag Sarkissian, Co-Founder and CEO of eSkootr Championship.
eSkootr Championship Riders
| | |
| --- | --- |
| Rider | Country |
| Aarón Guardado | USA |
| Alexis Letellier | France |
| Ami Houde | USA |
| Anish Shetty | India |
| Antoine Magalhaes | France |
| Antonin Bernard | France |
| Aymard Vernay | France |
| Billy Morgan | UK |
| Chelsea Gowland | UK |
| Dakota Schuetz | USA |
| Daniel Brooks | UK |
| Danny Skinner | UK |
| Elise Christie | UK |
| Jamiel Guerchadi | Switzerland |
| Javi Espinosa | Spain |
| Jordan Rand | USA |
| Kilian Larhar | France |
| Lena Kemmer | Austria |
| Marc Luna | Spain |
| María Bellot Bernabé | Spain |
| María Paula Mapis | Colombia |
| Matis Neyroud | Switzerland |
| Nancy van de Ven | Netherlands |
| Nicci Daly | Ireland |
| Roberta Ponziani | Italy |
| Roomet Saalik | Estonia |
| Sarah Cabrini | Italy |
| Sara Sanchez Tamayo | Spain |
| Tre Whyte | UK |
| Wilfred Njuguna | UK |
| | |
Written by| Ronald Ortega