Extreme E was scheduled to run the 2022 season's second race in Sardinia, Italy, from May 7-8. However, due to circumstances that have been labeled by the series as "current global events," the competition has been moved to take place July 6-7, keeping the original location.
The ODYSSEY 21 will be tested, once again, at an Italian military base in the region of Capo Teulada, west of Sardinia, with the novelty that the green flag will be postponed two months longer than previously stipulated. This adjustment in the calendar ended up giving definitive shape to the second season of the 100% electric off-road category.
"Of course it is a shame to postpone our event, but we are a global series that operates in full cooperation with our hosts and these circumstances are out of our control," said Alejandro Agag, CEO and Founder of Extreme E.
Agag further elaborated that given the serious issues facing the world, the category takes a back seat, thanking all parties involved with the development of the second season of Extreme E for their flexibility to deal with the unexpected twist in the racing schedule.
Related Content: Chip Ganassi Racing Aims High for Island X Prix
After the Island X Prix on July 6-7, Sardinia will host Extreme E again for the third round of the year, from July 9-10, confirming the location of the event, which handled the possibility of developing in Senegal or Scotland, but finally the organization decided to extend the participation in Italian territory.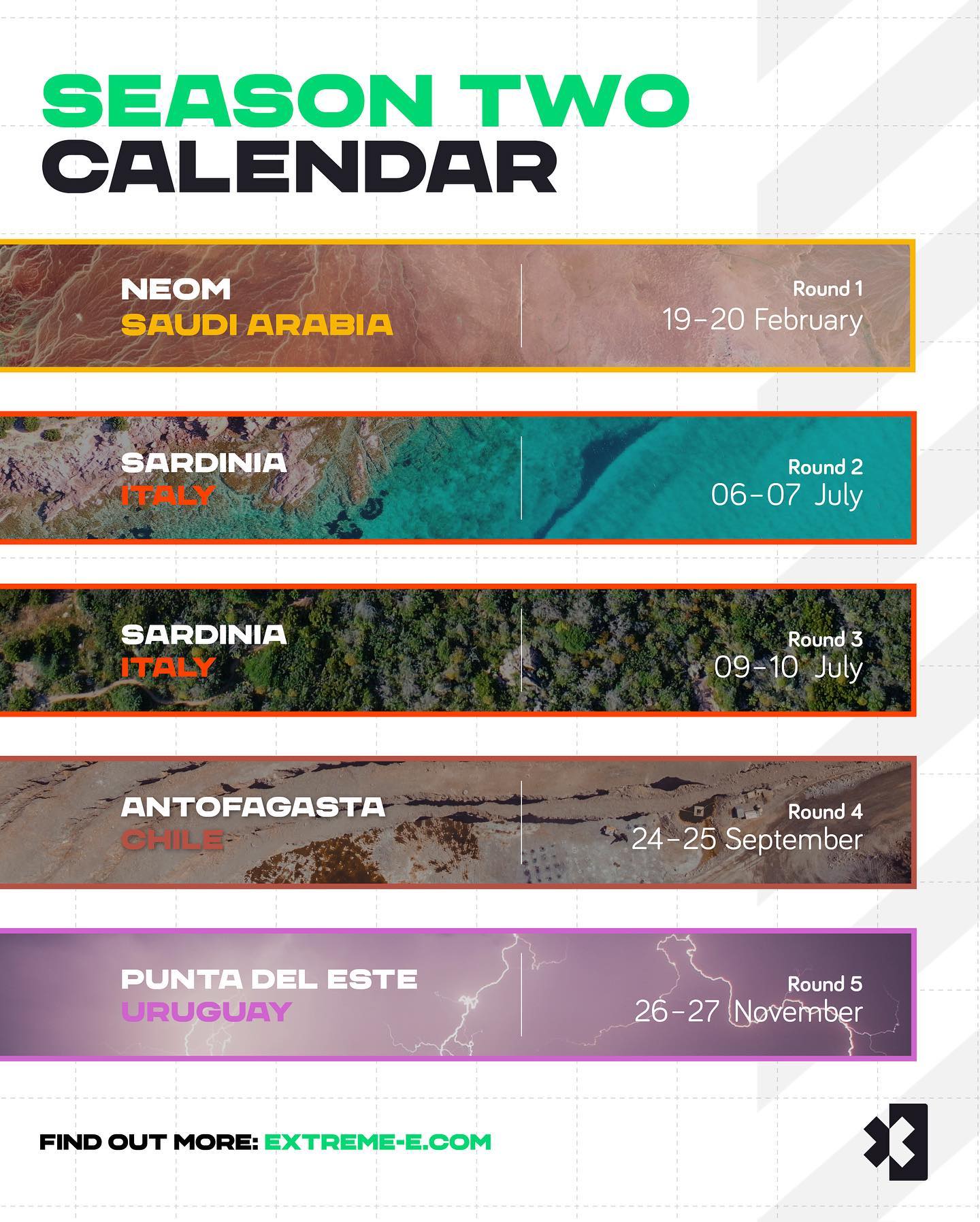 Then, South America will dress up to receive the electrified division a week later than planned, as Antofagasta, Chile, was expected to host the Cooper X Prix from September 10 to 11, but now it will be from September 24 to 25, leaving the stage set for the end of the campaign in Punta del Este, Uruguay, when the Energy X Prix will take place from November 26 to 27.
Written by | Ronald Ortega