Formula E's Gen3 car is described by the category's promoters as the most powerful electric racing car in the world. To boost these characteristics, the series has entered into partnerships with leading brands in the automotive industry for season 9.
In this regard, the electrified category announced that tire manufacturer Hankook will be the new and exclusive technical partner and supplier to the ABB FIA World Championship.
At an event at The Swarovski Crystal Worlds in Austria, Hankook officially presented the newly developed Hankook iON racing tires to guests and representatives of Formula E as well as the international media.
High Sustainability Standards
According to official information from Formula E, The new tire has been developed in close cooperation with the racing series and is especially aimed at meeting the sustainability needs of the circuit and the future of electric mobility.
Almost 30 % of the material, which is specially designed for the third generation of Formula E race cars, is made of sustainable elements. Formula E teams currently have access to a tire variant that can be used in both dry and wet conditions to further save resources.
In addition, the long durability of the rubber is another pioneering step. After the respective race weekends, Hankook fully recycles each set of tires to ensure that the championship is as sustainable as possible.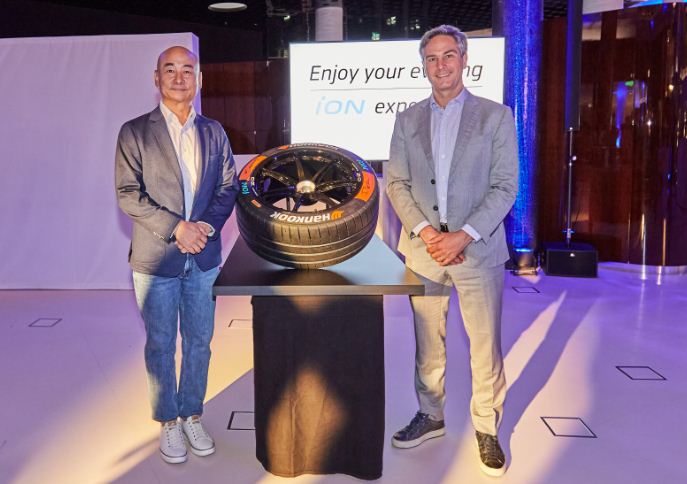 Key Partnership
"A good three years ago, we at Hankook decided to become an official technical partner and tire supplier to arguably the most progressive, modern and sustainable racing series in the world starting in 2023," said Hankook Tire & Technology President and CEO, Sooil Lee.
"Hankook's brand philosophy and our strategic orientation towards an increasingly sustainable future also reflect the spirit and DNA of Formula E. Together, we will significantly advance and influence the development of modern motorsport in the years to come," he assured.
For his part, Formula E CEO, Jamie Reigle, said the partnership with Hankook represents a great step forward because of its long experience working with racing teams on circuits around the world, noting that its pioneering innovation and commitment to sustainability make it the perfect match for the championship and the new Gen3 car.