His 17-year career and a Formula 1 World Championship have not been enough for British driver Jenson Button, who at 41 will now drive an off-road electric SUV in the new Extreme E.
Nevertheless, Button will not only add a new category to his record, the former Mc Laren rider has founded his own team called "JBXE", which let the Electric Odyssey reach 10 teams.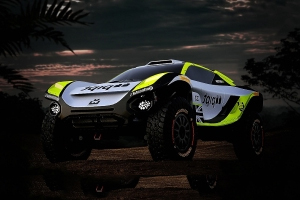 Thus, Jenson becomes the third Formula 1 champion to join the competition that seeks to raise awareness about the impact of climate change on earth, after the acceptance and participation Nico Rosberg and Lewis Hamilton's teams. 
"JBXE has been a long time coming and I'm both delighted and proud to announce its formation and entry into the inaugural Extreme E Championship. I caught the off-road bug a few years back which led to me entering my own team in a few races including the Mint 400," said Button.  

Jenson Button
It is expected that in the next few days, Button will announce the woman who will accompany him to share the wheel of his Odyssey 21 vehicle.
The Extreme E will begin in the first of the five destinations of its first season between April 3-4, in the Al-Ula desert, Saudi Arabia, on a circuit previously designed by scientists that will minimize the negative impacts of a career that will not leave emissions.
It is important to mention that in addition to this fact, Jenson announced in recent days that he has returned to Formula 1, but this time it was not as a driver, but as an advisor to the Williams team. 

Read also: Lucas Di Grassi, the first big winner of Formula E
To read more news like this, bios and highlights, follow us on Instagram and Twitter @greenracingnews.
Drafting | Osward Rubio