By land, sea and air, companies specializing in electrical technology are still in full swing to continue developing prototypes that dazzle humanity and, in turn, are friendly to the environment.
For this reason, the North American company Bye Aerospace continues to set the standard in the application of innovative CO2-free electric propulsion systems in its aircraft and announced the launch of its new jewel, the "eFlyer 800".
It is an "eight-seat fully electric twin turboprop class" aircraft, the company details in its official announcement. The prototype is focused on the accelerating demand for fully electric regional aircraft with significantly reduced operating costs, as well as increased capacity and utility.
Characteristics
It includes an automatic emergency landing system, intelligent algorithm that guarantees protection of the envelope, terrain avoidance and routing for automatic emergency landing and also an option for supplementary energy solar cells, coupled with an electric taxi on wheels.
The aircraft's 8-seat configuration consists of up to seven passengers and one or two pilots. The eFlyer 800 will have just one-fifth the operating costs of traditional twin turboprops and is geared toward the air taxi, air cargo, regional and charter aircraft markets.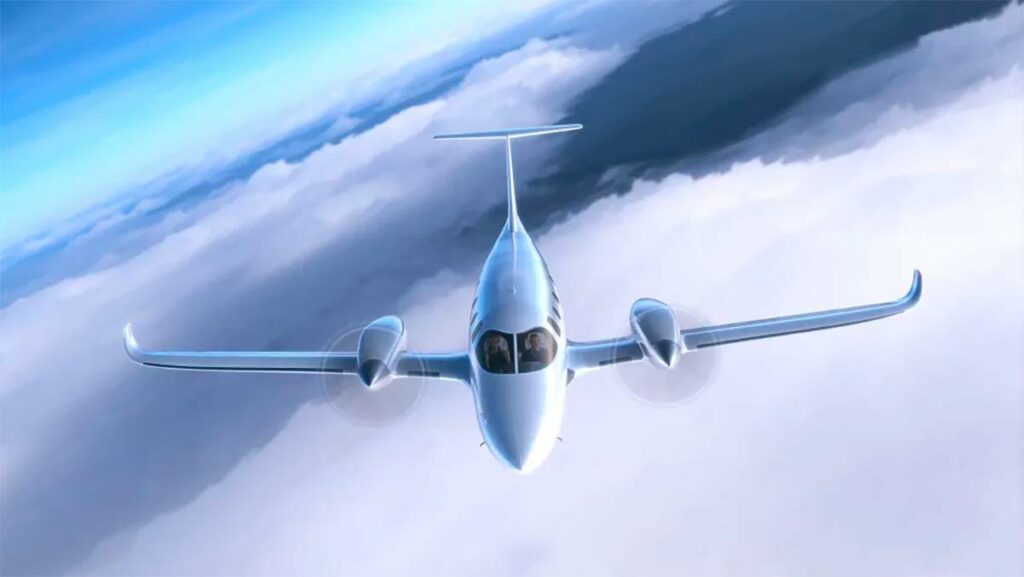 It is capable of cruising up to 320 knots, a ceiling of 35,000 feet, and a range of 500 nm with IFR reserves of 45 minutes at a normal cruising speed of 280 knots.
Bye Aerospace also states that the aircraft has two electric motors mounted on the wings, each with two redundant motor windings, redundant quadruple battery packs and a complete aircraft parachute on safety aspects.
Read also: Agag promises changes to the Extreme E to avoid repeating mistakes from the first race
"The eFlyer 800 is the first all-electric propulsion technology airplane that achieves twin-turboprop performance and safety with no CO2 and extremely low operating costs," said CEO George E. Bye in a statement.
Technological alliance
Bye Aerospace is also working in partnership with the technology company "Safran", with which it is evaluating the most efficient electric powertrain for the eFlyer 800. "Safran product lines with the ENGINeUS™ motors, rated from 50kW to 500kW/1MW and GENeUSGRID™ systems, perfectly fit with the Bye Aerospace portfolio of e-aircraft," said Hervé Blanc, Executive Vice President and General Manager Power with Safran Electrical & Power
"Building upon our successful cooperation on eFlyer2 and eFlyer4, we are very proud to bring our best expertise to support Bye Aerospace in the design of the new eFlyer 800," he added.
Related content: Lucas di Grassi about Valencia EPrix: Everything is working in Formula E
Bye Aerospace reported that it is in the process of obtaining the FAA Part-23 certification of the eFlyer 2 for the professional flight training mission and the four-seat eFlyer 4 for use in air taxi, cargo and advanced training.
"All of the company's current and future aircraft families have electrical aircraft engineering, research and solutions designed to specifically address the pressing needs of the market," explained George E. Bye.
He added that "the benefits include five times lower operating costs, no CO2 emissions and reduced noise." Bye Aerospace estimates that the eFlyer will eventually eliminate the release of millions of metric tons of CO2 each year as its deliveries begin and the general aviation fleet is replaced.
Written by I Jhonattan González