The main brands in the automotive industry not only focus their efforts on making the transition to electromobility, but also, through technology, seek to create a friendly and safe ecosystem in the vehicle fleet and traffic in general in cities, including pedestrians and cyclists.
In this regard, the manufacturer Audi presented an innovation called Cellular Vehicle-to-Everything (C-V2X), which allows vehicles to send information between others that are nearby and are equipped with this tool. The information transmitted can include road conditions, traffic sign information, location and more.
It should be noted that access to the platform can reach cellular radio towers and common cell phones, and to perfect all these communication channels, Audi announced a partnership with the technological "Spoke", specializing in interconnected solutions.
Read also: Mahindra Racing to Unveil M9Electro for Gen3 Era this Week
One of the manufacturer's goals is to improve the way cyclists and cars travel on the same streets and roads. Bicycles with the C-V2X system would be detected by Audi vehicles with the same technology and would issue proximity reports to prevent accidents.
According to data from the U.S. National Traffic Safety Administration, during 2021 a total of 7,342 pedestrians and 985 cyclists in the midst of road accidents.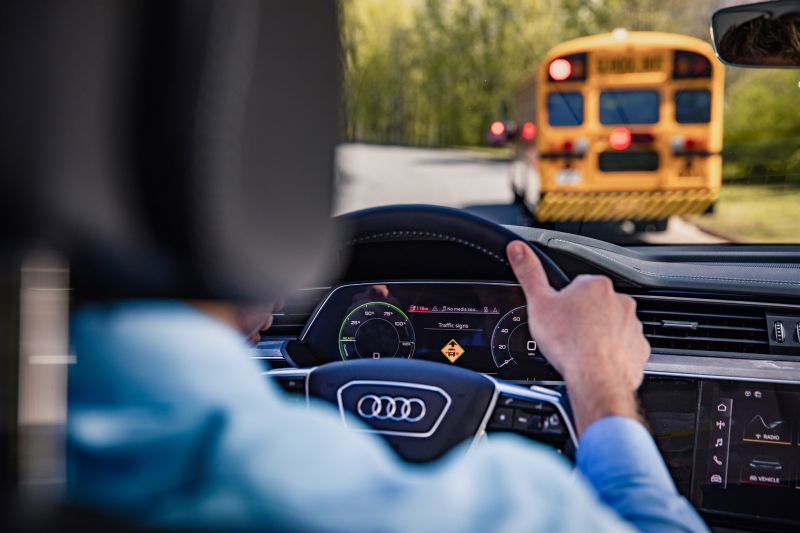 Operation
According to Audi, The C-V2X hardware in the bicycle can notify a vehicle when it is approaching, even if it is obstructed by another vehicle and cannot be seen by the driver.
If a bicycle approaches, Audi's test vehicles are programmed to provide a variety of warnings to the driver to avoid a collision. For example, it can notify a proximity warning to alert in the event that a cyclist is projected to enter a vehicle's turning path to either side, or front, rear and crossover crossing prevention.
Before bringing the innovation to market, Audi is conducting extensive tests on its e-tron Sportback car, the results of which they expect to present soon.