Two races, one winner. Eric Granado (LCR E-Team) took top honors during the official debut of the 2022 MotoE season in Spain after dominating with authority on the Circuito de Jerez, and now, he will look to do the same in Le Mans, France, in what will be round 2 of the nascent campaign where Jordi Torres (Pons Racing 40) will try to stop him.
The first two races in Spanish territory left several sensations that outline an interesting battle between Granado and Torres. Both riders have been successful on French territory, so the knowledge of the track, knowing where to attack, defend and move to gain time is part of their repertoire prepared for the battle.
Granado was the only rider to repeat on the podium in Spain, while Torres wasn't quite right, but his two-time title in the 100% electric motorcycle category will be enough to stand up to Granado, who will have to deal with the fact that the LCR E-Team rider is the most recent winner on French soil.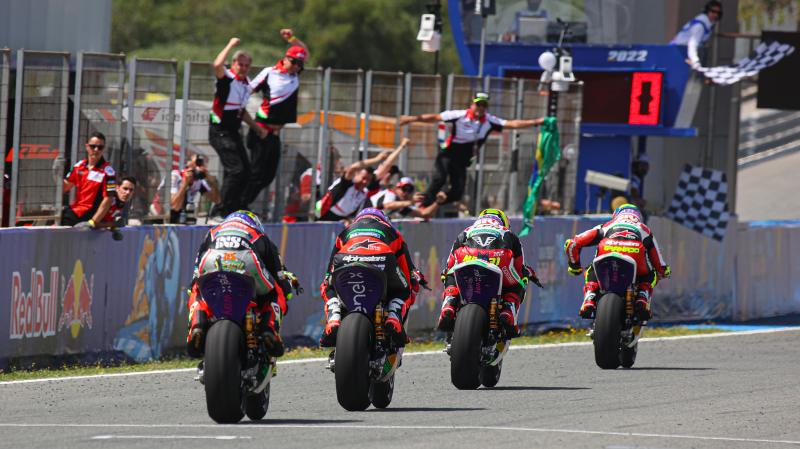 Related content | MotoE 2022 Calendar: Get to Know Each Circuit in Detail
However, they won't be alone. Dominique Aegerter (Dynavolt Intact GP MotoE) was solid in Spain with a second and fourth place respectively, as well as being one of the most familiar with the Bugatti circuit at Le Mans. On the other hand, his teammate, Miquel Pons, can be a threat if he can get the full performance out of his bike.
Another rider with experience in the French Grand Prix is Mattia Casadei, Jordi Torres' teammate, who fought for the victory last season, which he lost in the last corner settling for second place. Now, with a new team, he will try to put all his knowledge of the circuit on the table to fight at the front of the grid.
The race will take place on May 15, with Eric Granado and Jordi Torres as main candidates who will have to be precise not to make mistakes, neither against their direct rival nor the rest of the grid, which is ready to take advantage of any centimeter given to them on the track.
Written by | Ronald Ortega