Extreme E is preparing for the second race of the 2023 season to be held in Scotland, May 13-14. After having previous desires to bring the series to this country, it has finally materialized its appearance in the calendar of the third season, where the table is set for a new battle between the teams that make up the competition.
In that sense, the 100% electric off-road category has revealed the official circuit to be run during the weekend, which is loaded with interesting and challenging areas with several straights to get the most out of the ODDYSEY 21 and curves that will test the ability of the drivers.
A small straight will start the race, followed by a sharp turn to the right and another demanding straight before entering an oval curve with a mountain included, then through the Traction Challenge area, exiting it through a demanding chicane, starting a series of not so steep corners where you can go fast, where the track will become a little straight, but with several changes of terrain and surfaces, including mud.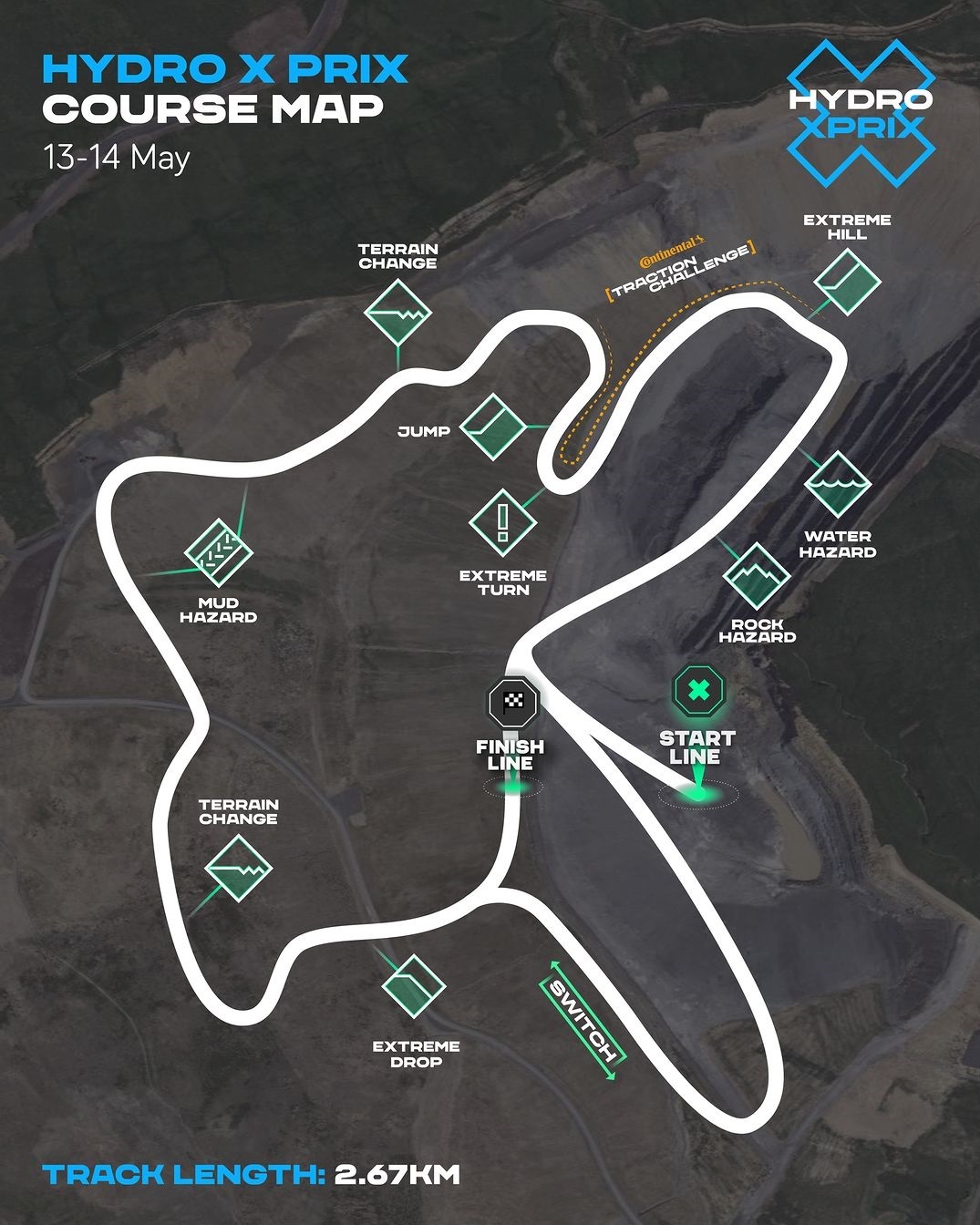 Related content:Extreme E Reveals Legacy Programme for Hydro X Prix in Scotland
Hydro X Prix News
Extreme is in Scotland for the first time, with the ODYSSEY 21 off-road electric vehicles taking part at the abandoned former Glenmuckloch open pit mine in Dumfries and Galloway, which is being transformed into a pumped storage hydroelectric (PSH) plant and wind farm, aligned with the series' focus on renewable energy solutions.
"We couldn't have found a more perfect racing site than the former Glenmuckloch colliery. Here in Scotland, our race site will pay tribute to the much-needed transition of a former coal mine being given an exciting new lease of life as a hydroelectric project that will provide a fully renewable energy source for the region for centuries to come," said Alejandro Agag, Extreme E Founder and CEO.
This will be a unique opportunity for motorsport fans to see the on-track action up close while learning about the importance of sustainability and clean energy, with Veloce Racing at the top of the standings, with ACCIONA SAINZ | XE Team and Rosberg X Racing in second and third.
It is worth noting that British driver Catie Munnings will race in her home event during the Hydro X Prix, while experienced Norwegian driver Andreas Bakkerud will make his debut in the series defending the colors of Jenson Button's JBXE team. In this way, fans can expect an exciting race on a challenging track that will test the skills and courage of the best drivers while promoting the importance of sustainability and environmental care.
Written by | Ronald Ortega