The Extreme E excitement grows increasingly as the 2021 season progresses. This time, Greenland will host the next X Prix on August 28-29. The event, however, will feature a series of new innovations implemented to experiment new ways to increase competitiveness.
The Artic X Prix will be held in Kangerlussuaq and will witness new updates to its sporting format, including a points split awarded after intermediate qualifying sessions; modified route to semi-finals; opportunity to advance to the finals of all races; and a five-car finale competition.
On August 28, Saturday, two qualifying sessions will be held, one in the morning and one in the afternoon, where each team will complete two laps of the course and 9 points will be distributed to the best time, 8 to the runner-up and so on. These points will be pooled together to provide the intermediate ranking that was previously recorded in time, as was the case in Saudi Arabia and Senegal.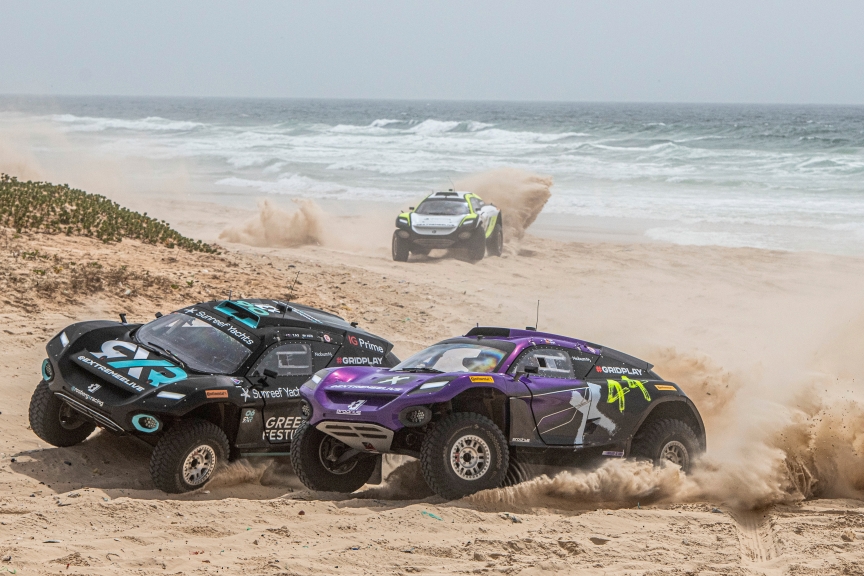 This new update will promote a more competitive environment where smaller teams will have the opportunity to start ahead if they perform well, and will have a second chance in case of poor timing or disqualification.
Related content: Emma Gilmour to replace Jamie Chadwick at the Artic X Prix
New Format, New Thrills in Extreme E
Now the teams finishing first, fifth and sixth will advance to Semifinal 1, while second, third and fourth will progress to Semifinal 2, with seventh, eighth and ninth going into the Crazy Race.
The two top finishers from Semi-Final 1 and 2, along with the Crazy Race winner, will battle on Sunday, August 29th, in the final 5-team race, with points being distributed as follows: 25 points for first, 19 for the second place, 18 to third, 15 to fourth and 12 to fifth. The team finishing in the second third position of Semifinal 1 will receive 10 points, the third in Semifinal 2 will receive 8 points, leaving 6 points for the Crazy Race winner and 4 points for the second.
It is worth noting that new points system to define the starting grid will not affect the overall Championship leaderboard, so the scoring process in the race will be distributed as follows: 12 points to the winner, 11 to the runner-up, 10 to the third and so on until reaching the ninth place, with 4 units.
"As a series, we are always ready to evolve in order to create the best overall result, and we believe these format changes will offer more competition and even more exciting races for our global fan base," said Alejandro Agag, Extreme E founder and CEO.
Written by | Ronald Ortega