Hyundai Team, one of those expected to brighten up the new PURE ETCR electric touring car category, reported several changes in its official vehicle, which led to a great result in Aragon, Spain, at the championship's second race.
In this event, John Filippi achieved victory on Group B of the Spanish day. The driver said after the race that the adjustments made to the Hyundai Veloster N ETCR were key factors to reach the top of the standings.
The 26-year-old Frenchman achieved his first win in MotorLand's battle by defeating Romeo Ferraris-M1RA pair Luca Filippi and Oli Web at the thrilling Iberian circuit.
Related content: Jordi Torres: The spanish champion wants to repeat his MotoE title
Meanwhile, his teammate, Augusto Farfus, won the SuperFinal A to finish second overall. Jean-Karl Vernay, meanwhile, is ranked number two on the drivers' points standings.
A Step Forward
Hyundai wasn't satisfied with what was achieved at the season opener and gathered its entire technical team to boost its racing prototype. Filippi pointed to the car modifications as one of the main reasons for significantly improving his time, since season-opening at Vallelunga last June.
"I've improved myself and my feeling with the car, so I'm more confident now," Filippi said. "But we have also improved the car's set-up. It's better and now we are also closer to the CUPRA."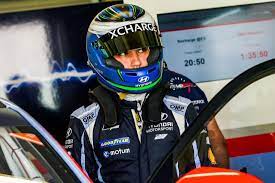 Filippi, who finished eighth overall in Spain, is currently ninth on the drivers' standings, but just 15 points out of a top-six finish. Regarding the constructors' table, Hyundai is second behind CUPRA and ahead of Romeo Ferraris.
Technology Benefits the Series
It is noteworthy that the innovations applied by Hyundai to their cars not only benefit the Asian manufacturer. Aside from any adjustments they may make to be ahead of the competition, the automaker provides a mobile charging infrastructure using HTWO's patented fuel cell generator to charge all participating high-performance electric vehicles.
The charging system is able to generate up to 160 kW of electricity, offering twice the power of Hyundai Motor Company's NEXO fuel cell electric vehicle (FCEV). Additionally, it is capable to fully charge two ETCR vehicles, each equipped with a 65 kWh battery.
The ground-breaking PURE ETCR will be back in Copenhagen, Denmark for the third major race of the debut season, on August 6-8.
Written by I Jhonattan González