In front of his home crowd and in the first season of the third generation era (GEN3), with the lightest and most powerful electric car in the world, Jake Dennis became the new Formula E Champion.
The Briton came in second place in Round 15, held in London, to ensure sealing the World Drivers' Championship at the wheel of the Andretti Avalanche.
Dennis survived heavy pressure from nearest rival and pole winner Nick Cassidy (Envision Racing), as well as two red flags to become the first British Formula E World Champion, and the first to win the title on home soil.
Read also: NEOM McLaren Unveils Motorsport's First Artificial Intelligence-based Livery
The Table was Set
Dennis arrived on British soil with a 24-point lead over Cassidy, who started from pole position. The New Zealander led the early stages before ceding first place to eventual winner and compatriot Evans on lap 11 and second place to teammate Sebastien Buemi.
Dennis had earlier got the better of Cassidy with an opportunistic move into the final corner just a couple of laps earlier, and Cassidy immediately fought his way past the Andretti: it looked like a titanic fight was brewing.
However, with Cassidy running in formation, very close to the Swiss, the Envision drivers came into contact. The former's front wing came off and got caught under the left front wheel.Repairs were attempted, but his race could not be saved, which made things easier for Dennis.
The loose bodywork from that crash caused a brief period under the Safety Car, bunching up the field. On the restart, Evans led, with Dennis working his way up to third, enough to seal the title as it stood.
An overly optimistic move by Norman Nato (Nissan) at the penultimate corner on lap 34 triggered a chain reaction with several cars unable to avoid the melee, imposing another break under Red Flag conditions.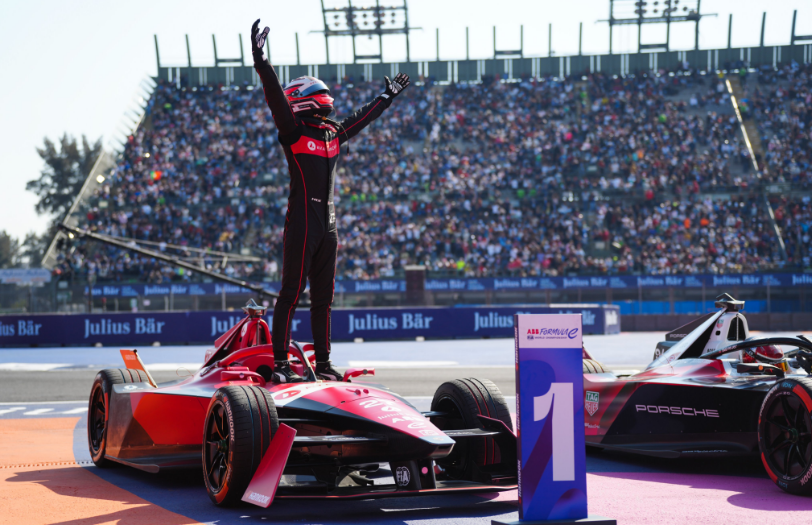 Reactions
"Oh, my gosh. That's unbelievable," Dennis said after the competition ended. "That race was so hard, everything came down on us. World Champions, baby. I feel amazing, unbelievable."
"I felt like everyone was racing against us, but Jesus Christ, we just became world champions and I'm so happy for me, the team and everyone, we deserved it so much," the Brit added.
"I only joined the championship three years ago and we almost won it in our rookie year, but now to come back and have the year we had, you know, break all the podium records and become World Champion, it's just mind-blowing. I really didn't think I'd get in this year and all credit to my kids – I love them so much and they've given me an absolute rocket all year. And this is the least I can do for them."