The Japanese company Teijin and the Australian Applied Electric Vehicles, have changed the way of seeing electric cars with the creation of an urban car that (they estimate) will be the vehicle of the future to travel through cities
The low weight of the light and resistant materials that make it up allow it to move autonomously, at low speed and with high energy efficiency, powered only by a photovoltaic solar roof.
With four seats inside, its well-to-wheel zero emissions philosophy is combined with a robotic platform that supports electric technology by-wire drive systems and autonomous driving.
Manufacturers
Teijin is a Japanese technology company that experiments with products developed to adapt to a changing, digitized and connected near future.
From the minds of its engineers and designers were born next-generation firefighting suits, advanced carbon fiber materials, plant-based vehicle fabrics, and polycarbonate windshields that don't need an external frame.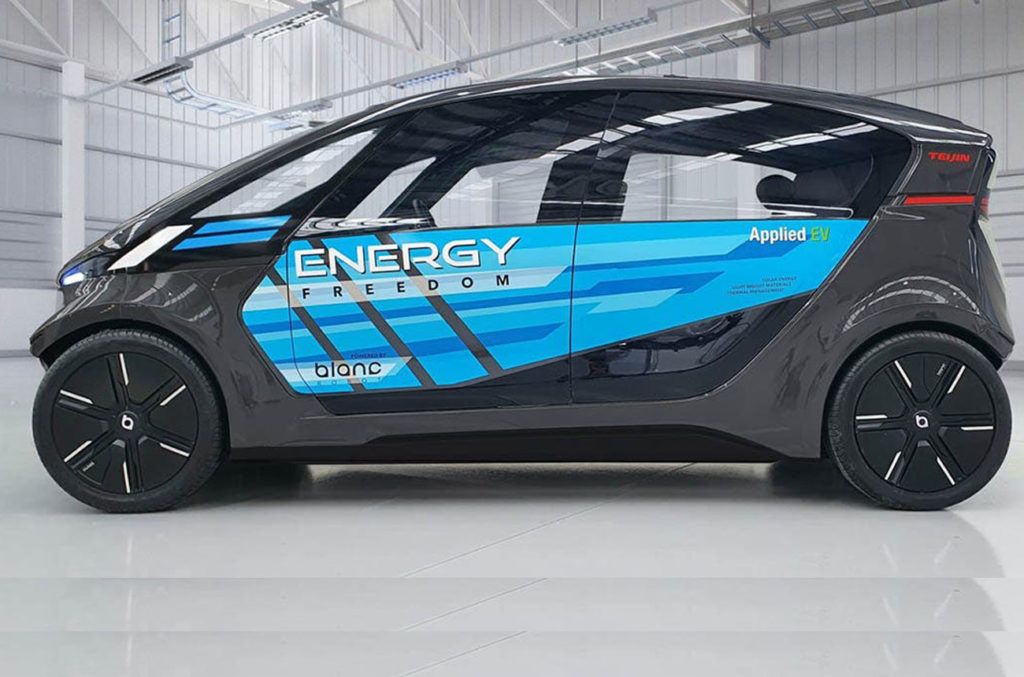 It is precisely the polycarbonate resin that gives life to these windshields that is the basis of the recently introduced Low-Speed Electric Vehicle prototype (LS-EV).
Its zero-emission well-to-wheel philosophy is achieved by combining Teijin technologies applied to strong, lightweight materials, including molding and processing procedures, and Applied EV solar technology.
Related content: Hydrogen batteries, still what electric mobility pursues
Panlite is a Teijin patented polycarbonate resin, very light and able to withstand impacts, which serves as glazing on windows and as a body panel on vehicle doors. In addition to containing weight and keeping occupants safe, it also blocks infrared radiation, helping to keep the interior cool and comfortable.
The curved roof is also covered in Panlite and contains a photovoltaic panel and a lightweight power module capable of generating 330 W power, equivalent to that of a conventional panel housed under glass.
Australian technology
This is where the experience of Applied Electric Vehicles comes into play, which last year received 1.3 million euros in government funds to continue with the development of a prototype of an autonomous electric vehicle capable of transporting people and merchandise through urban areas that extracts 60% of its energy needs from the sun.
The Australian company is the creator of the new light robotic platform called Blanc Robot, built from scratch for this purpose, which integrates high-efficiency electric drive system and cable transmission technologies.
Read also: Spain will have the first urban drone laboratory in Europe
On board the vehicle, the absence of physical transmissions that link mechanical components such as the steering or brakes with control systems, increases the internal space and facilitates the work of autonomous navigation systems, which enables this electric car to drive by itself.
The companies have not offered details on the use of the speed at which the vehicle will be able to move, nor the energy consumption that it will require. They only claim that it aspires to travel at low speeds and incorporate the advanced lightweight materials of the Japanese company, so that it will need miniscule amounts of energy, about the same as a pedestrian when moving through the city.
Written by I Jhonattan González