Envision Racing was able to finish Season 9 on a high, as the first team champions in the GEN3 era of Formula E. Facing their powertrain supplier, Jaguar TCS Racing, the Silverstone-based team finished the finale with 304 points to their name, four wins and nine podiums in their best season ever.
One of the keys to the squad's title lay in the performance of Nick Cassidy. The New Zealand driver was responsible for all but one of their wins this year and all but one of their top three finishes to end the campaign second in the World Drivers' Championship.
Despite a disappointing end to his title fight with Avalanche Andretti's Jake Dennis, the overall balance is positive for what the Envision team had achieved.
A Geared-Up Team
"It's no secret that I haven't been the happiest of the guys, but I'm happy for the team because they put in a tremendous effort," Cassidy said after winning the final race of the season in London.
"I know we all say that, and I know every team does, but I really like the group of people I work with. It's been the same guys for three years," he added.
Read also: Formula E Awards the Season's Best Drivers
Cassidy shot to pole position for Sunday's race in London, lining up on the front row alongside Jaguar's Mitch Evans. Although the two are close friends, both had to navigate wet and challenging conditions to help their respective teams win the championship.
"It's funny, Sylvain Filippi [Envision Racing Team General Manager] is going to think I'm an idiot for saying this. I feel like in my career, I went to Japan and learned a lot about myself, how to get the best out of myself, what I needed but also what I could give to a team," Cassidy explained to the official Formula E website.
"When I came to Formula E, it was like being put in a box. Not in a negative way. Over the three years, we've gained a lot of trust in each other and the team really allowed me to get out of that box," he stressed.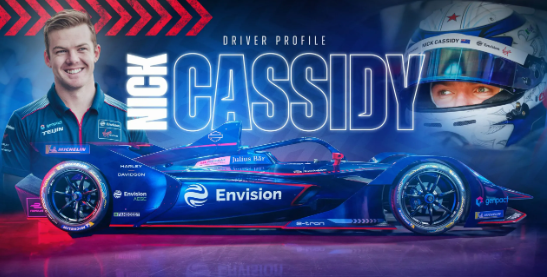 Since Cassidy's first race at the 2021 Diriyah E-Prix, he participated in 47 races, won five (four of which were this season) and scored 12 podiums and five poles.
He has always had moments of brilliance with the Envision team since his championship debut, but GEN3 has allowed Cassidy to flourish.
With the benefits of Jaguar's strong powertrain package and contesting every race with great strategy, Cassidy came very close to his first Formula E title.