Rosberg has won the battle against Hamilton. The duel of the teams belonging to the historic drivers came to an end with the victory of the Rosberg Xtreme Racing squad made up of the Swede Johan Krisstofferson and the Australian Molly Taylor, who won the final inaugural race of Extreme E.
Three teams were in the final: Andretti United, X44 and RXR teams, and the latter managed to win the long-awaited victory, a fact that did not take anyone by surprise considering that the Taylor / Krisstofferson duo had achieved first place in the Qualifying Round 1 and third of the final classification table.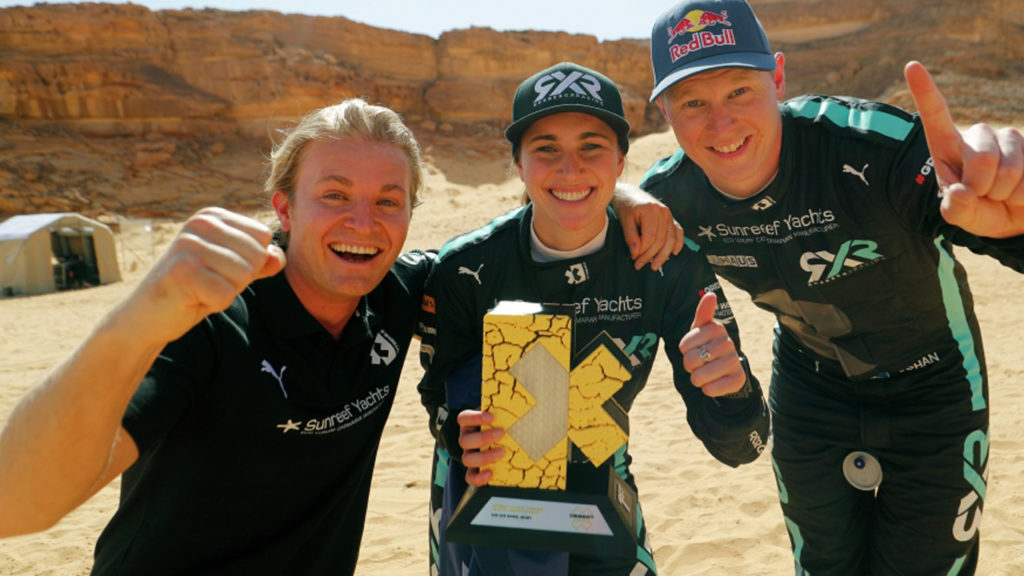 The Andretti United team, which had Catie Munnings and Timmy Hansen at the wheel and X44 with the duo made up of Cristina Gutiérrez and Sébastien Loeb, took second and third places respectively, in a battle in which they were all favorites. However, RXR were great at the timing pretty much from start to finish.
How they got to the final?
Champion RXR and X44 reached the decisive race as a result of taking first and second places (respectively) in the semi-final, after defeating veteran duo Carlos Sanz and Laia Sainz of the Acciona Sainz XE Team.
Likewise, Munnings and Hansen qualified for the last phase after beating Hispano Suiza Xite Energy Team and JBXE Team in the Crazy Race, the latter, founded by the well-known Jenson Button.
Thus, with this victory, Rosberg Xtreme Racing is now ahead with 35 points, followed by X44 with 30 and Andretti United with 28, after the first of five races of the Extreme E's number one season.
The throphy
As a way to get closer to its fans and discover their talents, the Extreme E chose to open a contest at the end of 2020 for those who wanted to capture their designs in the trophy that would be awarded in the inaugural race.
It was the Uruguayan Mariano Pineyrua (IG: @cruzcreativelab) who was the winner through a very bold concept based on the "Electric Odyssey" logo inspired by the environmental themes of each of the 5 races: stone for the desert and scarcity of water, recycled plastic for the ocean, recycled mirror for the Arctic, burned wood for the Amazon rainforest, and recycled glass for the ice.
Next stop
It will be during May 29 and 30 when the 9 teams of the first season of Extreme E will meet in the Pink Lake of Senegal, which will represent the marine environment visited by the series that has just premiered.

Read also: Extreme E reveals project to take care of marine species

Oil spills and the amount of plastic currently lurking in the ocean are putting fish populations on the brink of collapse, endangering marine life and the food security of the communities that depend on it, reason enough so the competition has gotten "down to business" and has selected that place to carry its awareness message.

Written by | Osward Rubio