The experience was one of the protagonists in the opening day of Extreme E in the desert of Al Ula, Saudi Arabia, and that is because the veterans Sébastien Loeb and Cristina Gutiérrez of the X44 team (Founded by Lewis Hamilton) took first place of the qualifying round.
In Round 1, Sébastien set the second fastest time (10: 48.067), behind only Johan Kristoffersson of the Rosberg Xtreme Racing squad (created by Nico Rosberg), who completed his first lap in 10:43.565.
The Acciona Sainz XE Team also completed the third position with an excellent appearance from the Spanish Laia Sanz, who achieved a good time of 11: 16.231.

Read also: Intense dust forces Extreme E to modified its format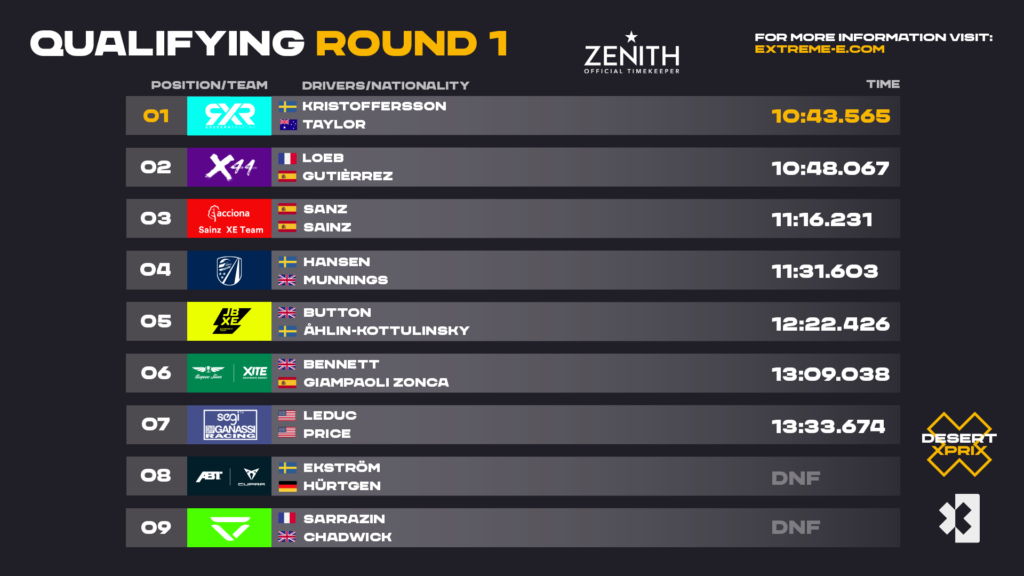 Rugged Extreme E First Round
Two incredible accidents marred the first qualifying round of the "Electric Odyssey". One of them was carried out by the French Stéphane Sarrazin of Veloce Racing, who overturned without receiving any kind of damage.
On the other hand, the experienced German Claudia Hurtgen got the worst of it, and that is after losing control of her Odyssey 21 she did at least 3 twists in the electric SUV. However, she was able to get out of the vehicle without major problems.
The decisive lap
The importance of the second round was quite high considering that the first 3 positions qualify directly to the semifinal. Carlos Sainz gave a master class on how to drive an off-road setting a time of 11:20.864, but he was no better than Cristina Gutiérrez who did it at 11:07.931.
For her part, the Australian Molly Taylor from RXR took third place, qualifying her team direct to the semifinal phase.
Thus was the order of classifications. The first three places qualified for the semifinal, the next three will go to the Crazy Race and the other 3 will compete in the Shoot Out.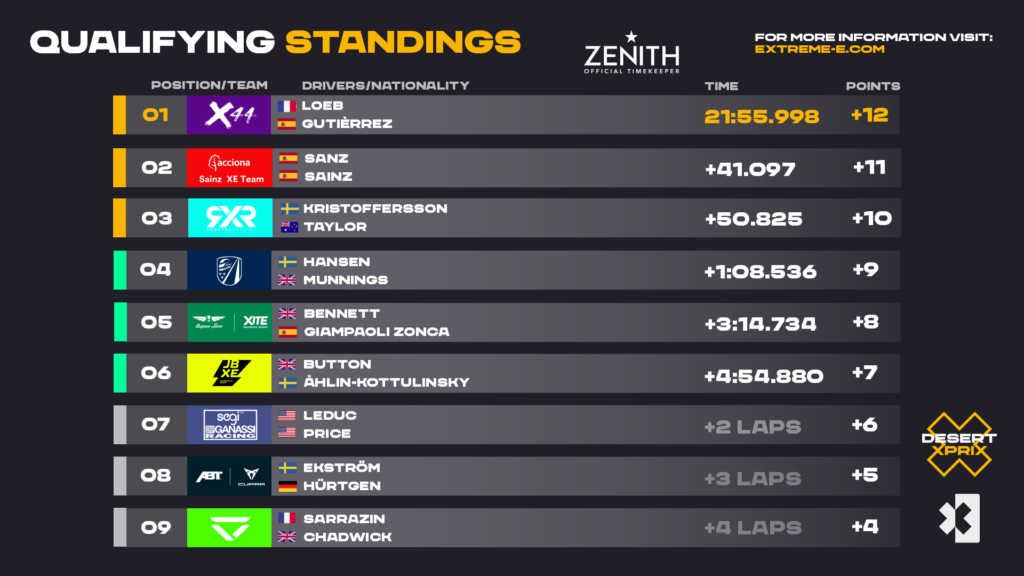 It is important to mention that in the second round, the JBXE Racing team was penalized 3 minutes for speeding and time in the driver change.
The action will resume on Sunday April 4 with the Crazy Race, the Shoot Out, the semi-final and the final.

Written by | Osward Rubio