During the pandemic caused by the Covid-19 outbreak, some electric vehicle competitions have gained momentum to project themselves in the coming years, but the reality of Jaguar I-Pace eTrophy was different, since these races, which functioned as support for the Formula E, saw its end in 2020.
With the premise "Running to innovate", the world-class championship for single-make cars was born in 2018, months after being announced by the president of Jaguar; counting on 10 annual races in eight different destinations, including Rome, Berlin, Mexico and Diriyah.
In its first season, all the races were held in the same Formula E venues, and they had an approximate duration of 30 minutes, time that was applied for its two categories.
In 2018-19, Brazilian Sérgio Jimenez from the Jaguar Brazil Racing squad conquered the Pro class, while the following year Simon Evans, originally from Australia, became his successor with Saudi Racing.
On the other hand, Bandar Alesayi was crowned in the Pro-Am category with Saudi Racing in 2019-20, the same title that his compatriot Fahad Algosaibi achieved the following season with the same team.
The end
Although there were great possibilities that Jaguar I-Pace eTrophy would prevail even after the three years that its contract contemplated, the global pandemic implied a fairly strong blow for the organizing body, which was forced to definitively cancel the electric race as a measure to preserve its economy.
Despite the bad news, the director of the Jaguar Formula E team, James Barclay, commented that the series "met many of the objectives proposed from the beginning."
It is important to mention that the competition was the most ideal promotional companion for Jaguar, which after some two decades off the tracks, returned to action through Formula E.
A power car
Wearing a 22" Michelin tires and a 90-kWh lithium-ion battery specially designed to withstand prolonged periods of constant maximum power, the car that represented the Jaguar I-Pace eTrophy was certainly a worthy vehicle.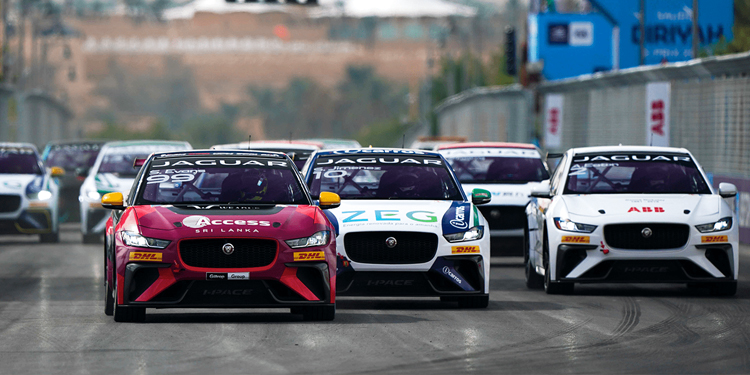 Innovation was also part of its composition, and the "attack modes" that were introduced in the fifth season of the ABB FIA Formula E, were also added to the vehicle that could reach 0 to 100 kilometers per hour in 4 to 5 seconds, with a maximum speed of 205 kilometers per hour. 

Read also: General Motors access the zero emission electric car challenge
To read more content related to zero emissions races and sustainable mobility, follow us on Twitter and Instagram as @greenracingnews.