Electric racing is taking over motorsport as new technologies develop in the area and PURE ETCR, the world's first all-electric multi-brand touring car championship, is part of the activity.
It will be in June when Italy's Piero Taruffi Vallelunga Autodrome will serve as the venue for the premiere of the first season of PURE ETCR between June 18 and 20; a distant date but that will serve to react in a timely manner to any altercation caused by the global pandemic.
The next appointment will be a month later at the Zolder Circuit in Belgium between July 2 and 4. A week later the action will arrive in Spain, with the MotorLand Aragón, where a festival of touring car racing is planned with the WTCR – FIA World Touring Car Cup.

Read also: Toyota will sell fuel cells to manufacturers to power hydrogen vehicles

Denmark will host the fourth race from August 6-8 to 8, before taking off for the first time outside of European lands to visit Inje Speedium, South Korea, where the champion will be crowned between October 15 and 17.
"By competing in countries with established touring car fanbases, as well as visiting growing motorsport markets, we're sure many new fans will be introduced to PURE ETCR. These are the most powerful touring cars ever made, competing in an innovative knock-out circuit-racing format and I'm sure the racing is going to be ultra-close, as we expect in touring cars".

Xavier Gavory, Director PURE ETCR
You can see the PURE ETCR 2021 calendar below
June 18-20 – Autodromo Vallelunga Piero Taruffi, Italy
July 2-4 – Circuit Zolder, Belgium
July 9-11 – Motorland Aragon, Spain
August 6-8 – Copenhagen Historic Grand Prix, Denmark *
October 15-17 – Inje Speedium, South Korea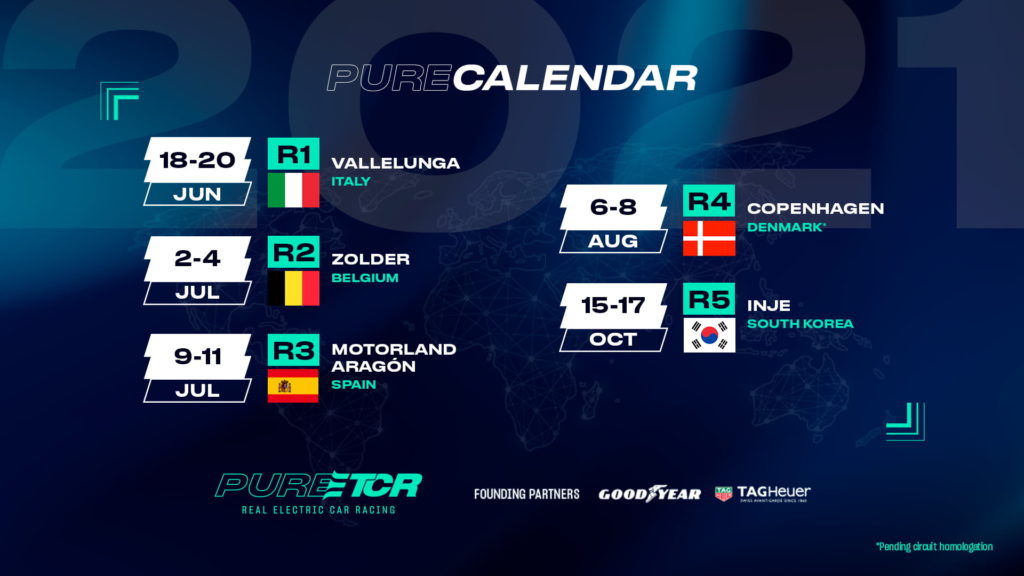 Info: pure-etcr.com

Written by | Osward Rubio