The debut of Extreme E in South America was full of great events that ended up consolidating X44 Vida Carbon Racing in the second season, as they were the fastest to get the win in the Copper X Prix, although accompanied by events that marked the outcome of the race.
Cristina Gutiérrez and Sébastien Loeb won in the Atacama Desert to take the first victory so far in the second season of the 100% electric off-road category after an intense battle against NEOM McLaren XE in the Final Race, which included a penalty for the British team.
Tanner Foust and Emma Gilmour were poised to take the team's first win in the series, but a small mistake on the first lap after running over a circuit marker flag ended in a 10-second penalty, sending them from the absolute glory of first place to the disappointment of last place, as the competitive pace was there for the fight.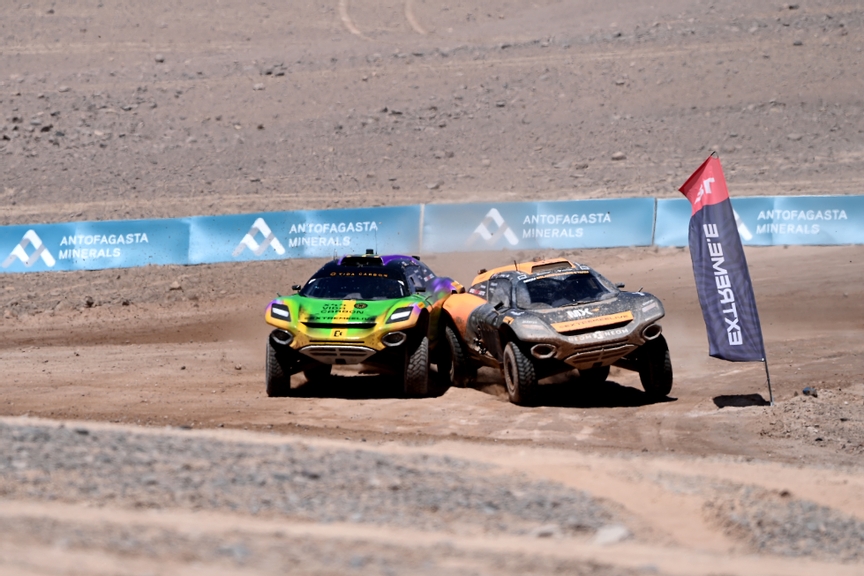 Loeb and Foust starred in a great side-by-side fight that left the stage set for Gilmour and Gutierrez. However, the unfortunate pennant event overshadowed the great performance of the British in the Atacama Desert.
McLaren and X44 were not the only ones who put excitement in the race, as Chip Ganassi Racing was also fighting at the front during the final battle to finish third, but they also received a penalty for skipping part of the circuit that left them out of the podium in Chile.
After so much speed, overtaking and penalties, X44 emerged as the winner, ACCIONA | Sainz XE Team finished second, ABT Cupra claimed third place, HUMMER EV Chip Ganassi Racing dropped to fourth, while NEOM McLaren XE finished fifth.
What Happened to Rosberg X Racing?
Just as the race favorites, Rosberg X Racing, were on track for another Final Race appearance, the team's ODYSSEY 21 did not start due to "technical problems". Johann Kristofferson got out of the car to join his teammate and the rest of the group, having to watch the race from the paddock, a strange position for them.
Even so, RXR continues to lead the championship with 83 points, followed by X44 Vida Carbon Racing, ready to finish the actions in Uruguay, the last race of the Extreme E 2022 to be held from 26 to 27 November under the name of Energy X Prix.
Related content: Extreme E's Reason for Visiting Chile to Race in Atacama Desert
Written by | Ronald Ortega