The Italian Alessandro Zaccone started the 2021 Moto E season with a victory in the first race after an accident by Eic Granado, who was practically guaranteed the victory and, in addition, was one of the best in the tests prior to the start of the contest.
Jordi Torres, current and defending champion, finished in third position, while Dominique Aegerter was second and did not give up until the end, where he was overtaken by Zaccone.
The competition was characterized by accidents, as only 13 drivers crossed the finish line. Just after the start, Lukas Tulovic passed Granado in a dangerous maneuver that caused a heavy fall for rookies Kevin Zannoni and Corentin Perolari.
Related content: Ferrari and Mantovani will be the supporters of Gresini Racing in MotoE
Granado continued to show his quality in the middle of the race and regained first place by passing Dani Pedrosa. These two, along with Tulovic and Aegerter, starred in a tough fight throughout the competition.
However, Tulovic would see his participation tainted with a clear error in which he gave a touch to the Spanish Fermín Aldeguer, who ended in the fall of both. The German's frustration was evident.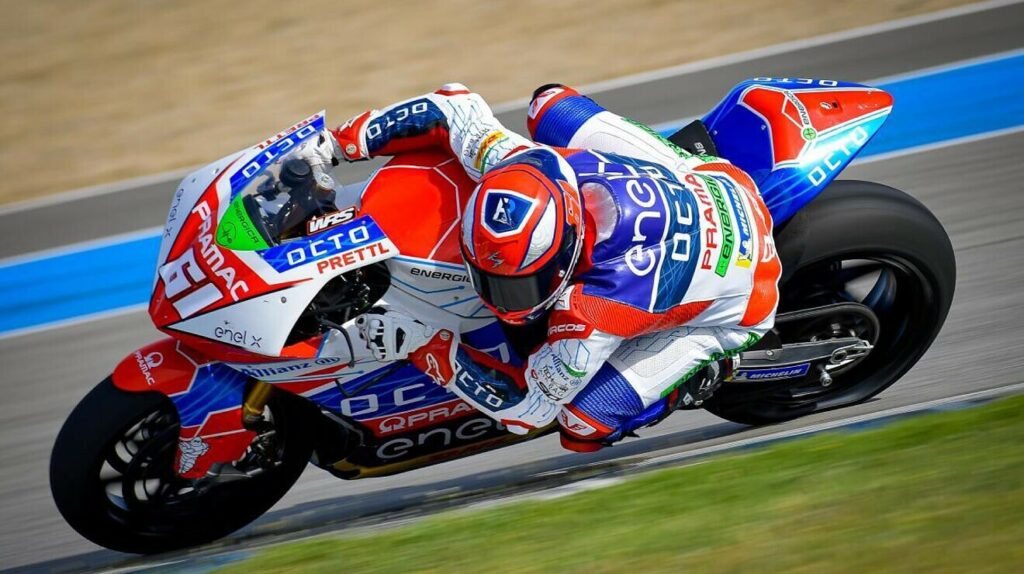 Granado out
After widely dominating the race, taking a good advantage of Zaccone, the turning point emerged that changed the landscape. The Brazilian did not know how to handle the adrenaline and, as happened on several occasions last season, he suffered a spectacular fall that left the table served to the Italian.
Despite taking command, Zaccone had to endure the pressure of Aegerter, who did not give up. Now the Swiss was seen faster and with pretenses to assault the leadership, an attempted accident took power away from his motorcycle and Zaccone was filled with glory.
The Moto E season will be back on June 6 where the world cup will visit Barcelona, Spain for the Grand Prix of Catalonia.
MotoE GP Spain 2021 race results
Alessandro Zaccone (Energetic-ITA), 25 points
Dominique Aegerter (Energetic-SUI), 20 points
Jordi Torres (Energetic-ESP), 16 points
Mattia Casadei (Energetic-ITA), 13 points
Miquel Pons (Energetic-ESP), 11 points

Written by | Jhonattan González