The insufficient charging infrastructure for electric vehicles has become a real challenge for technology companies decided to venture into this market. Large recharging centers and wireless devices are beginning to emerge as possible solutions to the low autonomy of electrified cars.
One innovation about to hit the streets is the "ZipCharge Go", a portable charger from the British company ZipCharge, which is in the last phase of testing before going live.
According to the company, its engineers are currently working on an advanced stage of validation, including the Lithium-ion battery cells and the bi-directional AC-DC converter, created by the organization itself.
Read also: André Lotterer on Porsche in Formula E: "I Am Confident We Can Always Be in the Top 5"
During these final tests, technicians are looking to evaluate thermal behavior, charging performance, safety, durability and full functionality to ensure a safe and seamless ownership experience for daily power delivery.
In addition, the ZipCharge team is developing custom control software and a dedicated mobile app, which will allow users to optimize the operation of the portable EV power bank. According to the company, this incorporates a suite of security features, including customer authentication and the ability to remotely monitor, track and disable the Go charger from their cell phone, anywhere, thanks to built-in 2G/4G connectivity.
Device Details
The ZipCharger Go will allow users of an electric car to be able to charge it without the need for a nearby power outlet. According to the technology company, in Europe alone, 40-60% of households with an electrified car do not currently have a designated parking point either inside the home or on the street.
The aim of the device is to reduce difficulties caused by the lack of infrastructure, as it allows extending the vehicle's range between 32 and 65 kilometers depending on the capacity of the portable charger itself within an estimated time of between 30 and 60 minutes.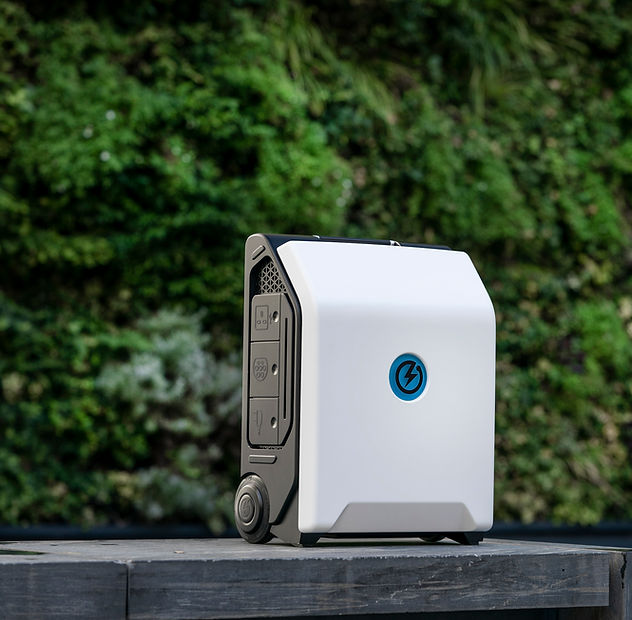 Once the portable battery's capacity is depleted, it can be recharged at home in less than an hour. It will be easy to move it around thanks to its trolley-type format with a handle and two wheels for easy mobility, bearing in mind that when fully loaded it weighs about 22.5 kilos.
A Plus for Electric Mobility
Jonathan Carrier, Co-Founder of ZipCharge, pointed out that the new wireless charger shows how charging infrastructure can be developed to solve specific needs, encouraging people to switch to electromobility. However, he believes it is critical to create an infrastructure that makes charging easier, cheaper and more convenient.
He assures that the ZipCharge Go will be a very useful tool, specifically for companies that have a last-mile delivery fleet, as it provides freedom by eliminating the tediousness of finding a charging point close to home, one that is working or unoccupied.
After this testing phase, the company expects to have it ready for delivery to customers in early 2023 and expects to publish pricing by the end of 2022, with the aim of starting the pre-order process.
Written by I Jhonattan González