After completing its driver lineup with Jake Hughes and Rene Rast, McLaren revealed its single-seater for Formula E season 9, the first of the expected Gen3 of the electrified category.
A product of the ties with Nissan, the McLaren vehicle is practically the same as the Nissan e-4ORCE 04 that was also presented last November 30.
It is a car that, like the other members of the grid, has a powertrain that offers 350 kW of maximum power and a braking energy recovery capacity of 600 kW, which allows 40% of the energy used in the race to come from this route.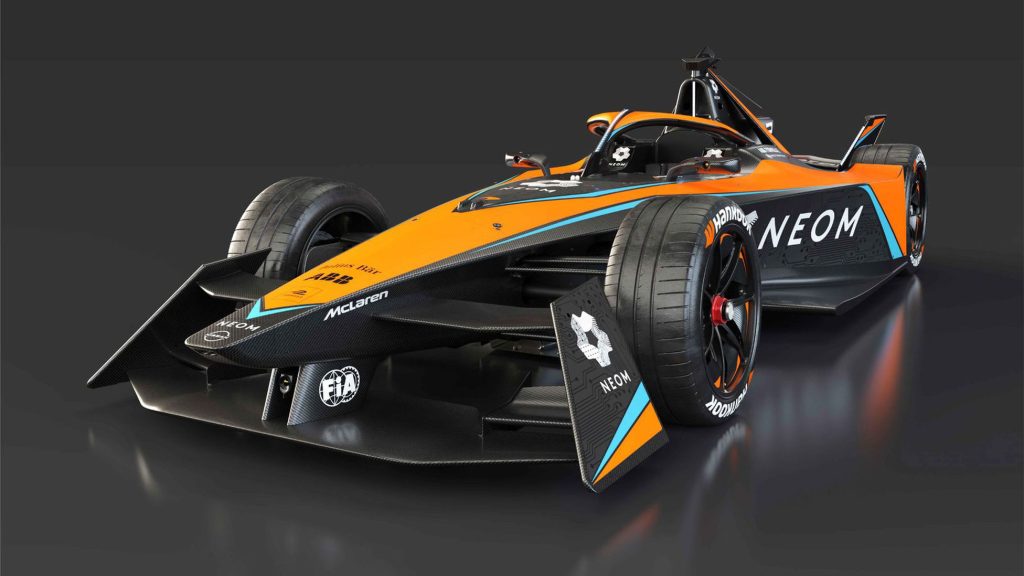 Read also: Formula 1 Unveils Sustainability Progress Achieved in 2022
Features
McLaren's 'Gen3', without being outstanding, has a very attractive presentation. It wears its traditional papaya orange that is combined with light blue and black details. On the front wing, side pontoons and rear wing area, black predominates, while the recognizable brand color forms an arrowhead.
The straight lines give the McLaren Gen3 a more sober image than other proposals, but the simple decoration of the British brand's single-seater is very well balanced. NEOM, as main sponsor and even part of the team's name, plays a leading role on the sides and side flaps of the front wing.
The presentation of McLaren for the new era of Formula E has also served to know the numbers that will use their two drivers in their first season with the team.
In the case of Rast there is some surprise, since the German cannot use his usual #33, since it is already taken by Dan Ticktum. Faced with this situation, Rast has opted to compete with the number #58.
Hughes, on the other hand, has opted for the number #5 for his debut in the series. It should be recalled that the British driver was already part of the project before the absorption by McLaren, so his experience within the team after being a reserve and test driver for Mercedes EQ last season can be very interesting in the first change.
Formula E takes the field on January 14, 2023 at the Autodromo Hermanos Rodriguez in Mexico City, where 11 teams and 22 drivers will seek to be the monarchs of the beginning of an ambitious era.