The next pure-electric 2021 Mercedes-Benz EQS will be the most aerodynamic production car ever made. According to the German car-maker, in a bid to give its battery-powered flagship the best possible real-world electric range, the version of the all-new Mercedes-Benz EQS will have a drag coefficient of just 0.20Cd.
Subjected to countless days testing in the wind tunnel, the slippery aerodynamics are attributed by chief designer Robert Lesnik to the vehicle's smooth and near-seamless design.
Mercedes says the unveiling is still a "few weeks away" but has released two new images of the EQS to whet our appetite for the final production model.
The Slovenian-born designer describe the EQS as "revolutionary" and said work began on pioneering new Benz almost nine years ago. Lesnik says the pure-electric limo is the culmination of all of the car-maker's "crazy ideas" that were played with over the last decade.
It may also interest you: SEAT will launch two all-electric vehicles to the market by 2025
"Purpose architecture, we believe the purpose architecture deserves a purpose design," he said referring to what lies beneath the EQS.
Nevertheless, the most striking feature, says its creator, is the single 'bow' line that stretches across the entire 5.2-metre-long sedan.
Right now, the EQS's exterior is unseen but pics from the brand's Twitter can give an idea of what to expect. There's full-width light bars front and rear, no creases down the flanks, a clamshell bonnet and "Black Panel" grille (mainly for styling, not cooling Because is a electric vehicle) with little three-pointed star motifs.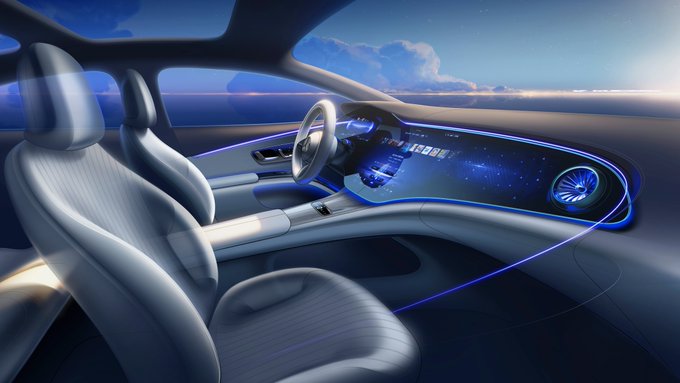 The EQS, which will be presented on April 15, is the first Mercedes model to be based on the new EVA platform specific to electric cars, and which will also serve as the basis for the next Mercedes EQE and the SUV versions of the EQS and EQE, among others.
Written by | Gabriel Sayago