An incredible autonomy and great freedom when performing movements are among the most outstanding features of the new electric wheelchair called Siroum, a vehicle designed to cover practically all the needs of those users who require its functionalities.
The chair has been developed by the company Edites Solutions, in collaboration with Toyota Argentina. Both achieved that Siroum could have 8 hours of continuous autonomy, as well as a system that allows it to be adapted according to the needs of each patient.
Through its omnidirectional system, the chair is capable of turning on its own axis and reaching a maximum speed of 10 kilometers per hour (km/h). This feature is accompanied by a fail-safe electromagnetic brake.

Read also: General Motors' Chevy Bolt EV and EUV Get Official EPA ranges
A calf brace, footrests and an adjustable armrest are some of the pieces that increase the comfort of the chair, which has a weight of 62 kilograms.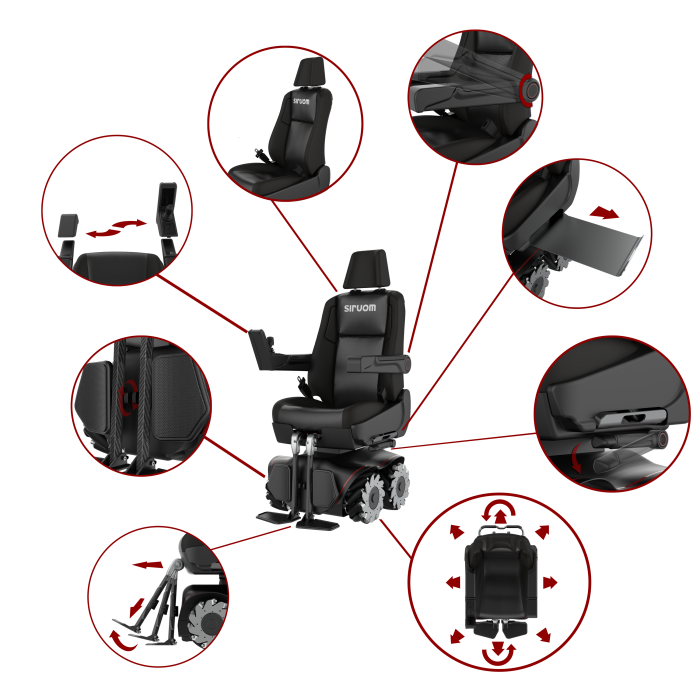 Regarding safety, Siroum is equipped with an emergency disc brake, seat belt and anti-roll wheels, three qualities that allows to travel through places that at some point were almost impossible for a vehicle of this type to travel.
Another of the key aspects of the Edites Solutions and Toyota Argentina project is an LCD touch screen that can be adapted for right and left-handed users. It has a size of 3.5", navigation buttons, Bluetooth and Wi-Fi.
More specs
Among the dimensions of the chair, there is a height that varies between 1255 and 1330 mm and a width of 560 and 650 mm, while the height between the seat and the floor ranges between 500 and 575 mm.
In total, Siroum could travel at least 60 km/h thanks to the power of its battery: 48V.
About Edites Solutions
Under the premise "Breaking barriers between society and disability", this Argentine company was created by young people who, through the use of clean technologies, develop useful tools for those with some type of disability.
Thanks to its efforts started in 2011, Edites Solutions has achieved various national and international distinctions, in addition to the support of one of its main sponsors: Toyota Argentina, who not only contributes from the economic aspect but also with technical advice.

Written by | Osward Rubio