PURE ETCR, the first all-electric touring car championship, and the Eurosport chain announced the tentative schedule for its inaugural season in 2021.
The schedule, which is made up of five rounds involving the most powerful and fastest vehicles ever made, will start in Europe in June and finish in Asia in October.
The best touring car drivers in the world will be measured in PURE ETCR competing in a knockout "battle" format.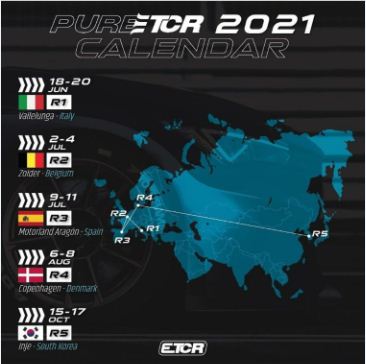 The venues
The Autodromo Vallelunga Piero Taruffi in Italy will host the first event of this new touring car competition from June 18 to 20; a summer date chosen to provide the best chance to avoid being affected by the COVID-19 pandemic.
The next of the five races will be at the Zolder Circuit, Belgium, from July 2 to 4, then will be in Spain, to the MotorLand circuit in Aragón to celebrate the great racing festival of touring cars with the WTCR – FIA World Touring Car Cup.
Read also: Drone racing is expect to be the most exciting motorsport on the planet
The battle for the leadership continues in Denmark on August 8 in the Copenhagen Grand Prix; Bellahøj will host the first PURE ETCR street circuit event.
The season concludes with a first trip abroad and a visit to Inje Speedium, South Korea – again with WTCR – where the first King or Queen of the PURE ETCR will be crowned from October 15-17.