A fine wood finishing and a 700 W of power delivers the new Pure Electric Air Pro LR, a new creation from the electric scooter manufacturer, which has everything to position itself as one of the best it has launched so far, as its features are combined with its elegance for a lethal combination.
The work does not stop from the company, as a few days ago had introduced an electrified pedaling bicycle quite affordable. Now, it is once again entering into the sustainable market with this scooter which uses wood on the platform where users will stand, as well as wearing colors with metallic tones.
The Air Pro LR employs eye-catching details on various areas. The cargo hook and appliqués are examples of this, and in fact, luxury is present throughout the structure, even on the wheels that give off a sense of robustness despite being a light and small vehicle.
Standing upright, its length is 116 centimeters, 119 centimeters high and 50 centimeters wide, and when folded it measures 51 centimeters. The scooter weighs 17.5 kilograms and can support loads of up to 120 kilograms, providing an ideal transportation solution in busy cities requiring ever-smaller means of mobility.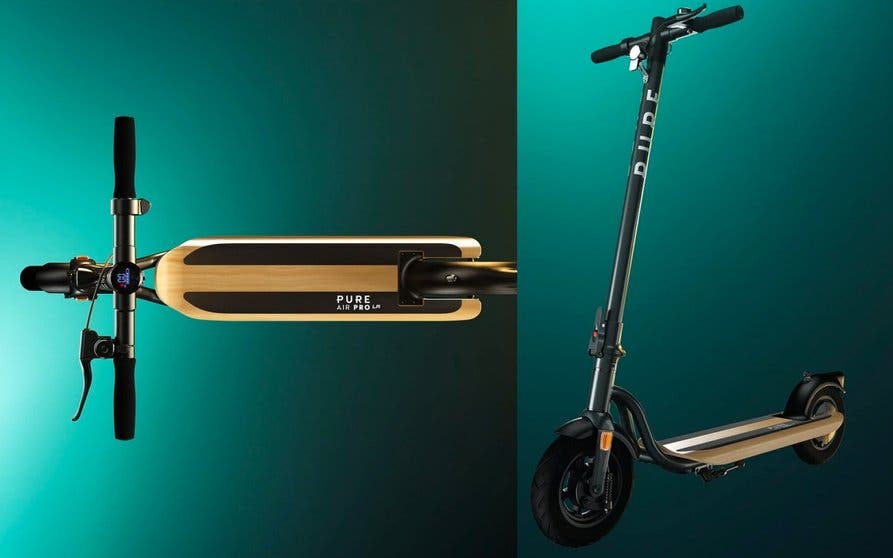 Related Content: India Challenges Western Market with Launch of Ola S1 Scooter
Pure Electric Air Pro LR: Mechanical Features
The Pure Electric Air Pro LR can develop a maximum power output of 700 W, thanks to a Li-ion battery located along the platform generating 518.5 Wh (36 volts), offering a 60 km range just by completing one charge, requiring 9.5 hours to reach 100%.
Finally, the brand continues its journey into sustainable mobility by offering great solutions at micro-mobility level, therefore, a scooter of high power and comfort is ideal for people to move from one point to another within small areas or confined spaces.
Written by | Ronald Ortega