During the first quarter of 2021, sustainable mobility in the maritime environment has received a wave of projects that will undoubtedly contribute to the construction of the foundations to have green oceans in the future.
Among the latest innovations is the hydrogen-powered electric boat, the Hynova 40, a prototype that has a fuel cell developed by Toyota, a company that has made this fuel part of its efforts in recent years.
The vessel measures 40 feet LOA and 4.2 meters BOA, with a Draft that will range between 0.8-0.9 m. In addition, it will be able to carry about 12 people on board.
Sun rays and sea fog will not be a problem for the Hynova 40, since it will have a sliding glass roof that can be used at any time.
The fact of being a water vehicle that does not generate carbon emissions has gone into the background, being part of a possible normality for the future, and its designers have put most of the effort in managing the best possible spaces.
The boat is not only capable of facing harsh weather conditions and rough seas, but it also has quite comfortable areas, designed to serve purely for entertainment. Both models are expected to reach a top speed of 26 knots per 15 miles.

Read also: A review of the features of Cybertruck, the Tesla pick-up that walks its prototype through Times Square
The Hynova 40 will have two versions: The Haute Couture, designed for an audience inclined to travel long distances, and the Custom Made (haute couture), a somewhat more familiar option with distributed spaces to spend more hours on board. Its premiere is expected to take place in the last quarter of 2021.
Recently it became known that in September, they will debut the first commercial cargo ship powered by hydrogen, developed by a group that has its roots in France.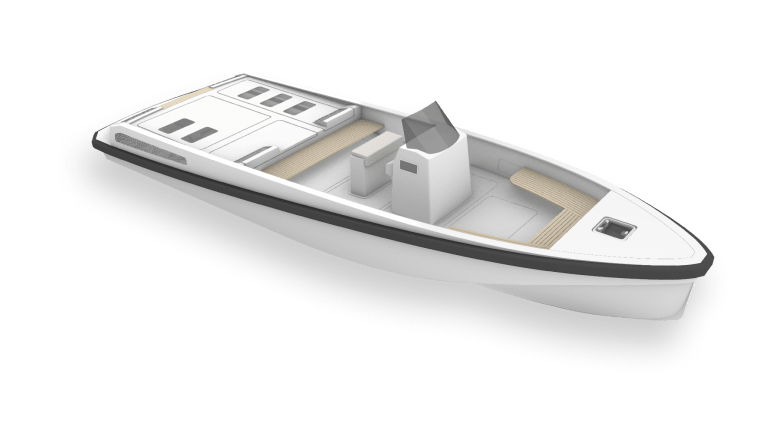 About Hynova
Under the premise that hydrogen is the most abundant element in the universe, just over two years ago the 100% French company, Hynova, was born by the hand of its creator Chloé Zaïed. One of the first milestones that the brand has achieved with the aforementioned boats has been to create the first pleasure boat equipped with a hydrogen fuel cell.

Written by | Osward Rubio